Publication:
Estudio de la utilización del glucomanano en la reestructuración del músculo de pescado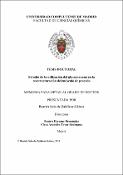 Files
Authors
Advisors (or tutors)
Editors
Publisher
Universidad Complutense de Madrid
Abstract
Esta tesis doctoral se centra en el diseño y la obtención de prototipos de reestructurados con aspecto de pescado fresco, con características funcionales y mínimamente procesado, elaborados a base de subproductos de pescado picado ("serrín"). Para ello se gelifica glucomanano, mediante desacetilación alcalina, en frío y de forma termoestable. El pescado es un alimento saludable y nutritivo y su consumo diario estáre comendado. Sin embargo, como recurso natural está sobreexplotado. Además, los procesos pesqueros llevan consigo la generación de subproductos, que podrían ser utilizados en la industria alimentaria en la elaboración de nuevos alimentos. La forma más habitual de elaborar productos reestructurados es la gelificación de la proteína miofibrilar aplicando calor, pero existe otra muy interesante, que consiste en la gelificación en frío mediante la incorporación al músculo de distintos tipos de ingredientes...
This doctoral thesis focuses on the design and production of restructured prototypes made from by-products of minced fish ("sawdust"). They are intended to have the same appearance as raw fish muscle, with sensory properties like fish muscle when they are cooked. For this, addition of glucomannan (a neutral hydrocolloid from Amorphophallus Konjac) helps to form thermostable hydrogels in the presence of alkali, entrapping the mince within the hydrocolloid matrix. "Fish is a healthy and nutritious food and daily consumption is recommended. However, as a natural resource it is over-exploited with not all sources are directly destined for human consumption. In addition, processing of fish involves the production of by-products, which have a use in the food industry as a raw material in the preparation of new food products. The most common way to produce restructured products is by gelling the myofibril protein because of heat. There is another less common, but interesting method consisting of cold gelation by incorporating different ingredients into the muscle. To conduct cold gelling, three ingredients can be used; alginate, microbial transglutaminase(MTGase), and glucomannan...
Description
Tesis inédita de la Universidad Complutense de Madrid, Facultad de Ciencias Químicas, leída el 03-10-2019.
Collections