Publication:
Modelos de uso y recomendación social en entornos de enseñanza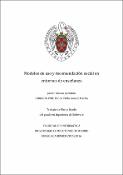 Authors
Advisors (or tutors)
Editors
Abstract
El fin de este trabajo es el estudio y elaboración de un sistema de recomendación basado en el comportamiento de usuarios, concretamente para la página web Acepta el reto, capaz de adaptarse a las capacidades de cada usuario. Esto comprende la creación de un algoritmo para la recomendación de problemas y su implantación en un servicio web. En el tiempo de desarrollo se ha estudiado la red formada por las relaciones entre usuarios, en base a sus problemas con veredicto correcto. Este trabajo ha servido para definir las bases del algoritmo de recomendación planteado. Para el despliegue del algoritmo ha sido creado también un servicio web, usando tecnologías actuales, para demostrar su funcionalidad y posible exportación a la página web Acepta el reto.
The purpose of this work is the study and deployment of a recommendation system based in user´s behavior, specifically for Acepta el reto web page, able to adapt to the capabilities of each user. This comprises the creation of an algorithm for problem recommendation and the implementation in a web service. In development time it was studied the relationship user´s network, based on his problems with correct veredict. This work has served to define the proposed recommendation algorithm basis. For algorithm deployment has been also created a web service, using current technologies, to demonstrate their functionality and possible export to Acepta el reto web page.
Description
Trabajo de Fin de Grado en Ingeniería del Software (Universidad Complutense, Facultad de Informática, curso 2015/2016)