Publication:
Gestión integral de explotaciones de vacas nodrizas: mejora de la rentabilidad y calidad de vida del ganadero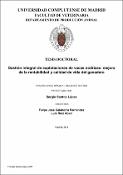 Files
Authors
Advisors (or tutors)
Editors
Publisher
Universidad Complutense de Madrid
Abstract
Los datos que publica el Ministerio de Agricultura y Pesca, Alimentación y Medio Ambiente muestran que el sector de las vacas nodrizas en España tiene una productividad muy baja comparado con otros sectores ganaderos y con los datos de la UE. Existiendo una amplia base científica y conociendo el sistema de explotación de vacas nodrizas en extensivo en sistema de dehesa no encontramos que haya un motivo técnico para esa productividad media tan deficiente. Quizás existan dos razones principales: la falta de mentalidad empresarial en muchas ganaderías y el efecto pernicioso de una Política Agraria Común que no prima la eficiencia productiva. A pesar del enorme sentimiento vocacional que arrastra la profesión de ganadero, el relevo generacional no es tan alto como se desearía. De manera tradicional, se ha asumido que el trabajo en las granjas está totalmente reñido con la conciliación de la vida laboral y familiar y ello hace que en pleno siglo XXI sean pocos los que estén dispuestos a asumir esa renuncia. Además, los datos publicados sobre las granjas españolas inducen a pensar que la rentabilidad económica será muy baja. Recopilando la información teórica que se ha ido generando a lo largo de los años en lo referente a la producción con vacas de carne hemos propuesto un modelo de gestión integral de la granja que consiga dos objetivos principales: incrementar la rentabilidad de la explotación y mejorar la calidad de vida (y por ende la felicidad) del propietario de la misma. La gestión integral se centra en mejorar los índices técnicos y económicos del rebaño. Para ello se busca optimizar el número de animales productivos (vacas) desde un punto de vista de mano de obra, adecuación a las subvenciones y maximización de la productividad (terneros). Además, proponemos trabajar con lotes uniformes de animales que simplifiquen el manejo; y buscar la máxima concentración de los partos será una de las herramientas para mejorar la disponibilidad de tiempo del ganadero...
According to the data shown by the "Ministerio de Agriculutra y Pesca, Alimentación y Medio Ambiente" and the EU, suckler cows' sector has a low economic productivity if compared with other livestock sectors. The extensive grassland range-farming system of suckler cows has been widely studied and we do not find any technical reason to explain this poor production. Maybe there are two main reasons that could explain poor production: i) there is a lack of business mindset in some farms and, ii) there is a harmful effect of the Common Agricultural Policy (European Union) in which productive efficiency it is not favoured. Despite the vocational feeling linked with the stockman profession, the generational succession is lower than what it would be desired. It has traditionally been assumed that conciliation of personal and professional life is difficult for farmers. This reason along with the low overall profitability of suckling-cows farms, would explain that, in the 21st century, there are few young people willing to become a breeder. In this dissertation, we have used the theoretical frameshift for developing anintegrated management model with two principal objectives: increase the overall profitability of the farm and increase the life quality –and so happiness- of the farm owner. The integrated management model is focused on increasing the herd technical indicators. We are looking for optimizing the number of productive cows according to the labour, matching with the grants and maximizing the productivity – expressed in number of calves-. In addition, we propose to work with uniform animal lots easing the animal handing; our intention is to concentrate the maximum of births decreasing that way the time spent by the farmer. Most of the farm costs are fixed, therefore instead of trying to spare fixed-costs, we try to optimize the productive goods diminishing its impact in the incomes. We control feeding by assessing the body condition according to the productive state and adapting it to the presence of grass on the farm. Regarding the health management, we focus in preventing losses-of-income diseases, such as infections related with the reproduction, diseases inducing calves-death...
Description
Tesis de la Universidad Complutense de Madrid, Facultad de Veterinaria, Departamento de Producción Animal, leída el 13/06/2017
Collections