Publication:
Fundamentos comunicativos de la gramática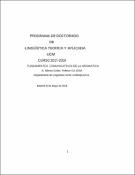 Authors
Advisors (or tutors)
Editors
Abstract
La gramática computacional está funcionalmente restringida. Este ensayo se ocupa de algunas de estas restricciones tales como evitar la ambigüedad, evitar la autoincrustación, el principio de una forma un significado, evitar la recursión, y la iconocidad. La gramática no es independiente de la función comunicativa. Chomsky ha rechazado que esta función sea la directriz del lenguaje a pesar de tales restricciones. No ha ofrecido una alternativa a la interacción entre la forma y la función y no ha dado una teoría sería de la comunicación lingüística.
Computational grammar is functionally constrained. This essay deals with some of these constraints such as avoid ambiguity, avoid self-emmbedding, the one-form-one meaning principle, louche constructions (aka garden path sentences), avoid recursion, and iconicity. Grammar is not independent of the communicative function of language. Chomsky has rejected the communicative function of language in spite of such constraints. He has not offered an alternative to the interaction of form and function and has not given a serious definition of linguistic communication.