Publication:
Biofeedback de temperatura periférica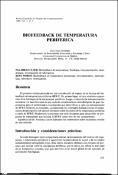 Authors
Advisors (or tutors)
Editors
Publisher
Asociación Española de Terapia del Comportamiento
Abstract
El presente trabajo pretende ser una introducción al manejo de la técnica del biofeedback de temperatura periférica (BFB-T). En primer lugar, se hace una breve exposición de la fisiología de la temperatura periférica. Luego, se describe la instrumentación necesaria y se hace hincapié en una serie de consideraciones metodológicas de gran importancia para el profesional o investigador que desee llevar a cabo un entrenamiento de BFB-T. Después, se presentan, sucintamente, los resultados hallados en las investigaciones de laboratorio con sujetos normales sobre el control de la temperatura periférica a través de BFB-T. Finalmente, se exponen una serie de pautas para desarrollar un programa de tratamiento que incluya el BFB-T como uno de sus componentes.
The present paper tries to be an introduction to skin temperature biofeedback trainíng (BFB-T). First, a bríef exposítion about skin temperature is made. Then, the neccesary instrumentation for BFB-T is descríbed and several important methodological considerations are emphasized. The results of laboratory experimentation with normal subjects about skin temperature control with BFB-T are summarized. Finally, several recommendations to develop a therapeutic program that includes BFB-T are proposed.
Collections