Publication:
Western Tethys continental-marine responses to the Carnian Humid Episode: Palaeoclimatic and palaeogeographic implications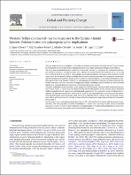 Advisors (or tutors)
Editors
Abstract
This case-study examines correlations in the continental-marine sedimentary record for the Late Triassic Carnian Humid Episode in the western Tethys domain of present-day E Spain and islands of Majorca and Minorca. The study area was divided into five sectors from west to east. Sectors 1 to 3 comprise the continental sedimentary record of this humid episode in eastern Iberia, which is represented by the three subunits (K-2.1, K-2.2 and K-2.3) of the K-2 Fm or Manuel Fm; each subunit records a fluvial episode with marine intercalations in distal areas. Sector 4 corresponds to Majorca Island and represents volcaniclastic input into a marginal continentalmarine transitional environment. Finally, sector 5 on Minorca Island comprises a karst surface developed on middle ramp deposits of the Arenal d'en Castell Fm, and separating this formation from the overlying Fontanelles Fm. Based on the ages of the units, estimated through palynomorph assemblages and ammonites, the Carnian Humid. Episode was located in both the continental and marine sedimentary records. A detailed sedimentary study focused on facies analysis identified allogenic controls on both continental and marine records. Hence, in continental areas influenced by sea-level fluctuations, fluvial deposits appear integrated within standard lowstand, transgressive and highstand system tracts. This connection based on sedimentary sequences and unit ages indicates that subunits K-2.1 and K-2.2 are represented by a karst surface on the subaerially exposed shallow marine deposits, while subunit K-2.3 already reflects a return to the normal Late Triassic semi-arid to arid conditions that laterally correspond to the transgressive stage represented by the Fontanelles Fm in sector 5. Late Triassic tectonics activated previously developed N·NE-S·SW and NW-SE conjugate fault lineaments in eastern Iberia. This rifting episode controlled sedimentation in sectors 1 to 3, allowing volcanic activity at the fault lineaments junction in sector 4, and configuring a palaeogeography of elevated and subsiding blocks, which controlled both continental and marine sedimentation in the study area.
Collections