Publication:
Las Rutas Geomonumentales como experiencia educativa para la difusión y conservación del patrimonio geológico y arquitectónico de la Sierra de Ayllón, Segovia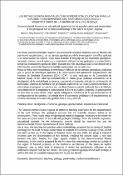 Advisors (or tutors)
Editors
Publisher
Instituto Geológico y Minero de España
Abstract
Las Rutas Geomonumentales suponen una interesante actividad didáctica para la difusión del patrimonio arquitectónico, de las ciencias geológicas y de la investigación científica aplicada a la conservación del mismo. Estas rutas enseñan el lenguaje de los materiales geológicos, necesario conocer para el aprecio y conservación del patrimonio geológico y arquitectónico. Desde las instituciones oportunas deben buscarse las vías educativas para la transmisión de la información, y las Rutas Geomonumentales representan una de estas vías. Hasta la fecha, esta metodología de enseñanza y difusión de las ciencias geológicas, propuesta por el grupo de Petrología aplicada a la conservación del patrimonio arquitectónico del Instituto de Geología Económica (CSIC-UCM), ha sido realizada en la Comunidad de Madrid. Desde el año 2000 aproximadamente, el citado grupo participa activamente en la divulgación de la metodología propuesta, suponiendo el presente artículo la continuación de dicha labor. Además de mostrarse los principales aspectos de las Rutas Geomonumentales, en este trabajo se propone por primera vez una Ruta Geomonumental realizada fuera de Madrid, concretamente en la arquitectura tradicional de la Sierra de Ayllón (Segovia). Es precisamente en este tipo de rutas donde mejor queda reflejada la incidencia de la geodiversidad en la configuración de los pueblos, la sinergia entre el patrimonio geológico y el arquitectónico así como la necesidad de la adecuada gestión para su uso y disfrute.
The Geomonumental Routes suppose an attractive teaching experience for the popularization of the built heritage, the geological sciences and the scientific research linked to its conservation. These routes show the geological materials language, necessary to be known for the value and preservation of the built and geological heritage. From the suitable organisms, educational methods for the information transfer should be searched for, and the Geomonumental Routes represent one of these methods. Up to now, this teaching and popularization methodology, proposed by the group of Applied petrology for the built heritage conservation of Institute of Economic Geology (CSIC-UCM) has been carried out in the region of Madrid. Since the year 2000, the group is intensive involved with the dissemination of this method, entailing the present paper a new step forward this task. Besides the major aspects related to the Geomonumental Routes philosophy, in this work is proposed for the first time this methodology carried out outside of the region of Madrid, precisely in the traditional architecture of the Sierra de Ayllón (Segovia). Just in these kind of itineraries is where the geodiversity influence in the settlements shaped could be best shown, the synergy between geological and built heritage as well as the need of a suitable management for its use and benefit.
Collections