Publication:
Caracterización de la geometría de la depresión de Navamuño (Sistema Central Español) aplicando técnicas geofísicas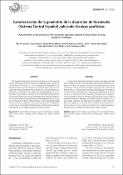 Authors
Carrasco González, Rosa María
Olaiz Campos, Antonio José
Ruiz Zapata, María Blanca
Advisors (or tutors)
Editors
Publisher
Sociedad Geológica de España
Abstract
La depresión de Navamuño se localiza en el tramo de cabecera del valle del río Cuerpo de Hombre (Sierra de Béjar), que durante el Pleistoceno Superior fue ocupado por un glaciar. Se trata de una cubeta tipo nava con una superficie de ~14 Ha, limitada entre laderas correspondientes a escarpes de línea de falla y la morrena lateral izquierda del paleoglaciar de Cuerpo de Hombre. Para conocer la geometría y el espesor de sedimentos de la cuenca así como sus relaciones con las estructuras y formaciones que la delimitan, se han realizado 9 perfiles de tomografía de resistividad eléctrica (TRE) en dos dimensiones (2D), apoyada en 9 sondeos eléctricos verticales (SEV) y dos sondeos mecánicos. Las interpretaciones sugieren un relleno sedimentario de la cubeta de más de unos 20 m de espesor. Genéticamente se interpreta como una cubeta rellena por sedimentos de origen fluvioglaciar y fluviotorrencial, con episodios de tipo lacustre locales y someros.
The Navamuño depression, located in the high sector of the Cuerpo de Hombre valley (Sierra de Béjar), was partly occupied by a glacier during the Late Pleistocene. The basin is a ~14 Ha pseudoendorheic depression with boundaries defined by fault lineaments and the left lateral moraine of the Cuerpo de Hombre paleoglacier. The geometry of the base of the basin and the thickness of sediments that contain were studied together with the relationship of these deposits with the structural elements. Eight bi-dimensional profiles of electrical resistivity tomography were carried out supported by nine vertical electrical sounding logs. Although heterogeneous, the maximum thickness of the deposit infilling the basin is higher than approximately 20 m in some sectors, with three units under the surficial soil. The depression is interpreted as a basin filled with fluvioglaciar and fluviotorrential deposits with episodes of local shallow pond/bog peat sedimentation.
Collections