Publication:
Influencia de los factores psicosociales en la rehabilitación de las conductas adictivas : buenas prácticas europeas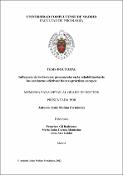 Files
Advisors (or tutors)
Editors
Publisher
Universidad Complutense de Madrid
Abstract
Los programas de tratamiento de adicciones han evolucionado desde las tradicionales comunidades terapéuticas hasta las actuales redes de tratamiento. Durante esta evolución, los programas basados en Recuperación han ido modificando su intervención, de manera heterogénea en muchos casos. El abordaje dentro de dichas intervenciones de los aspectos psicosociales supone un elemento de investigación importante para entender hasta qué punto dichos programas están adaptados o no a las actuales personas con problemas de adicciones y cómo pueden mejorar su adecuación. Los fines de esta tesis doctoral son: definir los diferentes modelos teóricos que se aplican para la recuperación de adicciones, incluyendo su vigencia, fortalezas y debilidades; analizar la evolución del concepto Recuperación aplicado a las conductas adictivas y su situación actual dentro de las redes de tratamiento; identificar los diferentes factores psicosociales que influyen en la recuperación de las adicciones; determinar de qué manera dichos factores están siendo desarrollados en las actuales intervenciones, incluyendo las posibles mejoras que se puedan llevar a cabo; evaluar una serie de buenas prácticas europeas en la Recuperación, incluyendo el análisis de sus principales características teóricas y prácticas; transferir dichas prácticas dentro del contexto europeo, realizando una evaluación de necesidades y detectando las fortalezas de cada intervención; generar modelos de intervención basados en recuperación, revisables, medibles y contrastables en diferentes entornos; por último, plantear una serie de propuestas prácticas, aplicables y sostenibles, con el fin de mejorar las intervenciones y la calidad de vida de las personas en tratamiento...
The programmes for addictions treatment have been in evolution since traditional therapeutic communities to actual treatment networks. During this evolution, Recovery oriented programmes have been modifying their intervention, in heterogeneous way in most cases. The approach of psychosocial aspects into these interventions is an important element of research to understand the point these programmes are adapted or not to actual persons with addiction problems and how they can improve their adequacy. The purposes of this doctoral thesis are: to define the different theoretical models that are applied to addiction recovery, including their validity, strengths and weaknesses; to analyze the evolution of the Recovery concept applied to addictive behaviors and its current situation within treatment networks; to identify the different psychosocial factors that influence addiction recovery; to determine how these factors are being developed in the current interventions, including the possible improvements that can be carried out; to evaluate a series of European good practices in Recovery, including the analysis of their main theoretical and practical characteristics; to transfer these practices within the European context, carrying out a needs assessment and detecting the strengths of each intervention; to generate intervention models based on recovery, reviewable, measurable and verifiable in different settings; finally, to propose a series of practical, applicable and sustainable proposals, in order to improve interventions and the quality of life of people under treatment...
Description
Tesis inédita de la Universidad Complutense de Madrid, Facultad de Psicología, leída el 21-01-2022
Collections