Publication:
Efectividad de la utilización del retinógrafo no midriático y la telemedicina en el diagnostico de la retinopatía en pacientes diabéticos tipo I y II de Arica, Chile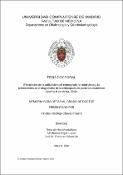 Files
Authors
Advisors (or tutors)
Ramírez Sebastián, José M.
Editors
Publisher
Universidad Complutense de Madrid
Abstract
El crecimiento económico globalizado asociado a la ampliación de desigualdades y exclusión social, hacen que los determinantes sociales en salud deban enfrentarse de una forma distinta por cada uno de los gobiernos y de sus sistemas sanitarios (Thielmann et al. 2005). En Chile, el modelo de Salud Familiar tiene por objetivo otorgar y mantener la salud de los individuos y comunidades a través de la prevención, la promoción y el control sanitario, bajo las directrices ministeriales de salud (Raña et al. 2007). En la actualidad, la Diabetes Mellitus (DM) es uno de los problemas de salud más graves de la sociedad, y en Chile en los últimos 30 años se ha observado un aumento de su prevalencia, lo que significa un alto coste económico para el país. Adicionalmente, la DM produce complicaciones sístemicas en diferentes órganos, lo que empeora la calidad de vida de las personas; una de ellas es la Retinopatía Diabética (RD) y es sabido que las enfermedades visuales, conllevan desventajas económicas a los individuos, sus familias y a las sociedades. En Chile, la baja cantidad de Médicos especialistas y las extensas distancias, determinan que la detección precoz de RD sea deficiente, aumentando la probabilidad de complicaciones retinianas y de pérdida visual...
The globalized economic growth associated with the widening of inequalities and social exclusion establishes that the social determinants of health must be faced in different ways by each government and their health systems (Thielmann et al., 2005). In Chile, the Family and Community Health Model aims to provide and maintain the health of individuals and communities through prevention, promotion and health control, under the Ministry of Health guidelines (Raña et al., 2007). Currently, Diabetes Mellitus (DM) has become one of the most serious health problems in our society; in Chile for the past 30 years, a sustained increase in its prevalence has been observed, which means a high cost for the country. Additionally, DM produces systemic complications in different organs, which worsens quality of life; one of such complications is Diabetic Retinopathy (DR) and it is known that ocular diseases carry profound economic disadvantages to individuals, their families and societies. In Chile, the low number of physician specialists and the great distances determines that early detection of DR is inadequate, increasing probabilities of retinal complications and visual loss...
Description
Tesis inédita de la Universidad Complutense de Madrid, Facultad de Medicina, Departamento de Oftalmología y Otorrinolaringología, leída el 16-05-2017
Collections