Publication:
Il manoscritto 4515 della Biblioteca Nazionale di Madrid: un'ampia raccolta di estratti di vari autori del primo Umanesimo castigliano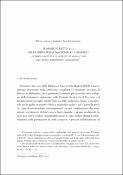 Advisors (or tutors)
Editors
Publisher
SISMEL · Edizioni del Galluzzo
Abstract
Lo studio verterà su uno specifico documento, preparato in diverse fasi di elaborazione e risultato dall'unione di diverse raccolte di estratti. Si analizzeranno alcuni esempi della presenza di umanisti italiani come L. Bruni e G. Manetti (che compaiono accanto ad auctoritates classiche e medioevali) e dell'importanza della loro inclusione in un testo destinato ad uso personale e conservato in un unico manoscritto: il 4515 della BNE.
The study will focus on a specific document, which was made in different steps, and the result is from the combination of extracts' several collections. We will analyze some examples of the presence of Italian humanists, such as L. Bruni and G. Manetti (who appears close to classical and medieval "auctoritates"); we will discuss the importance of their inclusion, because are included in a text whose use is personal and it is stored in a single manuscript: Madrid, Biblioteca Nacional, 4515.
Collections