Publication:
Theoretical assessment on the validity of the Wiedemann-Franz law for icosahedral quasicrystals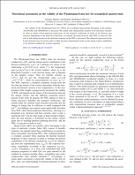 Advisors (or tutors)
Editors
Publisher
American Physical Society
Abstract
The validity of the Wiedemann-Franz law (WFL) for icosahedral quasicrystals belonging to the families AlCu(Fe,Ru) and AlPd(Mn,Re) is discussed. We exploit some characteristic features in the electronic structure in order to obtain closed analytical expressions for the transport coefficients in terms of the Hurwitz zeta function. Depending on the Fermi-level position, a systematic deviation from the ideal WFL is observed. The role of self-similar features in the electronic structure on the WFL is discussed. The obtained expression for the Lorenz function may be used in order to refine previous experimental results on the charge-carrier contribution to the thermal conductivity in these materials.
Description
©2007 The American Physical Society. We warmly thank Tsunehiro Takeuchi for enlightening comments. We acknowledge M. V. Hernández for a critical reading of the paper. This work has been supported by the Universidad Complutense de Madrid through Project No. PR27/05-14014-BSCH.
Collections