Publication:
Modelización de la audiencia integral en televisión : análisis comparativo de la distribución crossmedia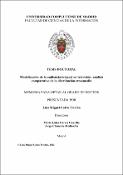 Files
Authors
Advisors (or tutors)
Editors
Publisher
Universidad Complutense de Madrid
Abstract
La convulsa realidad del medio televisivo obliga a la redefinición de sus paradigmas más básicos. En este trabajo se revisa el concepto de audiencia televisiva para proponer una nueva métrica adaptada a una realidad más compleja, integrando en la medición a los individuos alcanzados en medios ajenos a la cadena de televisión. Este nuevo indicador de audiencia integrada afronta en su desarrollo numerosos retos relacionados especialmente con las limitaciones de las herramientas tecnológicas y estadísticas de medición, pero su aceptación tendrá implicaciones en la estrategia futura de distribución de contenidos de las cadenas y en el propio análisis de audiencias. Esta investigación plantea una nueva visión de la potencia, alcance y rentabilidad del medio televisivo, que redefine la cuantificación de su público con la medición del consumo en nuevos canales de distribución en medios sociales o plataformas de intercambio de vídeo. El caso de RTVE y el uso que la cadena pública hace de YouTube como espacio complementario de distribución de contenido servirá de ejemplo y guía para presentar esta propuesta.
The convulsive reality of the television environment forces the redefinition of its most basic paradigms. In this paper we´ll review the traditional concept of television audience to propose a new pragmatic and integrative definition with the inclusion of the audience reached by gain media networks outside the Television owned channels echosystem. This new integrated audience indicator faces a number of challenges in its development related to the current limitations of the technological tools and measurement statistics, but its acceptance will bring relevant implications in the future content distribution strategy of the Channels and in the audience analysis itself. Our proposal wants to bring a new vision of the power, scope and profitability of the television medium, redefining the quantification of its audience with the measurement of consumption in new distribution channels in social media or video exchange platforms. The case of RTVE and the use of YouTube by the Spanish PublicTV as a complementary space for content distribution will serve as an example and guide to present this work.
Description
Tesis inédita de la Universidad Complutense de Madrid, Facultad de Ciencias de la Información, leída el 08-06-2022
Collections