Publication:
Las Ciencias de la Tierra en las Memorias de la Junta para la Ampliación de Estudios e Investigaciones Científicas (JAE IC): pensionados 1907–1934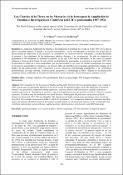 Advisors (or tutors)
Editors
Publisher
Sociedad Geológica de España.
Abstract
La Junta para Ampliación de Estudios e Investigaciones Científicas fue creada en el año 1907 con la idea de abrir la sociedad española al mundo a través del conocimiento. Una de sus principales actuaciones fue la que bajo la forma jurídica de "pensiones en el extranjero", se concedieron por concurso entre los solicitantes, y estaban destinadas al personal y los estudiantes de las instituciones públicas docentes y de investigación. En toda su existencia se presentaron 8.149 instancias de solicitud de pensión, de las que 1.594 fueron concedidas, de las cuales 28 pueden atribuirse a Ciencias de la Tierra. En este artículo se identifican los pensionados en esta área en el periodo 1907-1934. Se describen los objetivos y tareas desarrolladas por los pensionados en sus viajes. Se señalan someramente los campos en los que los pensionados se formaron, y se inicia la labor de identificar sus principales aportaciones, basadas en el análisis de las publicaciones sobre vulcanismo y rocas volcánicas, paleontología estratigráfica y de vertebrados, geomorfología, geología aplicada, tectónica alpina, geoquímica y mineralogía de DRX. Algunas de las aportaciones científicas fueron publicadas en Trabajos del Museo de Ciencias Naturales, Sección Geológica, números 1 al 38.
The Committee for the Extension of Studies and Scientific Research (JAE) as granting agency was created in 1907 with the idea of opening the Spanish society to the world through knowledge. Under the legal form of "pension abroad", was granted by competition among applicants; and was aimed at staff and students of public institutions teaching and research. Throughout its existence, some 8,149 applications for new pension, of which 1,594 were granted a present; 28 of these may be attributed to the Earth Sciences. In this paper the pensioners in the areas of Earth Sciences in the period 1907-1934 are identified. The objectives and tasks carried out by pensioners in his travels are described. The scientific and research fields in which the "pensioners" were formed are summarily indicated, and their main contributions identified, based on the analysis of publications on volcanism and volcanic rocks, stratigraphy and vertebrate paleontology, geomorphology, applied geology, Alpine tectonics, geochemistry and XRD mineralogy.
Collections