Publication:
Driving innovation management to create shared value and sustainable growth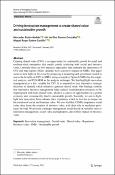 Advisors (or tutors)
Editors
Abstract
Creating shared value (CSV) is an opportunity for sustainable growth for small and medium-sized enterprises that entails jointly achieving both social and business value. Currently there are few practical approaches that underpin the importance of CSV and that explore which variables have a positive impact on SMEs. Our paper seeks to shed light on this issue by proposing a measuring and governance model to assess the benefts of CSV in SMEs, using a sample of Spanish SMEs for the empirical analysis, and PLS-SEM as the analysis technique. We frst highlight innovation management as a key variable for CSV. It is essential to take innovative strategic decisions to identify which initiatives generate shared value. Our fndings confrm that innovative business management helps cultural transformation processes to be implemented with high shared value, which is a source of opportunities in a global economy and, consequently, lead to sustainable growth. Secondly, we aim to highlight how innovative frms enhance their reputation, which in turn has an impact on the creation of social and business value. We also fnd that if SMEs emphasise social value, they boost the creation of business value, with their role as mediators proving to be vital. We present a strategic management model based on variables such as innovation management, social value and reputation, due to their impact on business value.
Description
CRUE-CSIC (Acuerdos Transformativos 2022)
Collections