Publication:
El intermezzo en la Corte de España, 1738-1758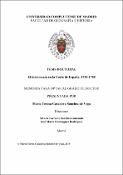 Files
Advisors (or tutors)
Torrente Sánchez-Guisande, Álvaro
Editors
Publisher
Universidad Complutense de Madrid
Abstract
El género intermezzo, cuyo cultivo en Italia tuvo lugar durante la primera mitad del siglo XVIII, ejerció una gran influencia en el posterior desarrollo de la ópera cómica, en el lenguaje sinfónico del clasicismo y un importante impacto en el pensamiento musical europeo de la época. La llegada de dos cantantes bufos italianos a Madrid, en 1737, supuso el comienzo de una etapa de cultivo sistemático del intermezzo en la corte española que duró veinte años, coincidentes con los últimos años del reinado de Felipe V y todo el reinado de Fernando VI, y que hasta el momento no había sido estudiada. Se ha localizado una gran cantidad de fuentes en España que permite apreciar que, al menos durante el periodo comprendido entre 1738 y 1758, se representó un número muy importante de intermezzi en la corte. Por lo tanto, se hace necesario dedicar un estudio a un género que, aunque no tuvo el mismo papel como instrumentum regni que el dramma per musica, y su función fuera el mero entretenimiento, parece haber gozado de cierta importancia en aquellos años. La investigación responde a cinco preguntas principales: qué antecedentes del cultivo del intermezzo hubo en el entorno cortesano de Felipe V y qué hechos influyeron en la recepción del género del año 1738; en qué contexto tuvieron lugar las representaciones; quiénes intervinieron en éstas y en el proceso de producción; qué repertorio se interpretó en Madrid; y cuál fue su procedencia...
The intermezzo genre, which was cultivated in Italy during the first half of the18th century, had a great influence on the later development of the comic opera, on the symphonic language of classicism and a significant impact on European musical thought of the day. The arrival of two Italian buffo singers in Madrid in 1737 entailed the onset of a stage of the systematic cultivation of intermezzo in the court of Spain that would last 20 years, coinciding with the last years of Philip V's reign and the entire reign of Ferdinand VI. Until now, there have been no studies on this movement. A large number of sources have been located in Spain that reveal and confirm that a highly significant number of intermezzi were performed in the court, at least in the period between 1738 and 1758. Thus, a study is needed for a genre that, albeit without the same role as instrumentum regni of dramma per musica, and its function was merely for entertainment, it does seem to have been quite important during these years. This dissertation seeks to respond to five main questions: What was the background of this cultivation of intermezzo in the cortisan setting of Philip V and what events influenced its reception in 1738?; In what context did the performances take place?; Who participated in them and in the production process?; Which repertoire was performed in Madrid?, and; What was its origins?..
Description
Tesis inédita de la Universidad Complutense de Madrid, Facultad de Geografía e Historia, Departamento de Musicología, leída el 27-11-2019
Collections