Publication:
El eWom visual en las comunidades de compra social del sector de la moda : el caso Polyvore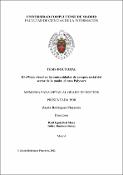 Files
Authors
Advisors (or tutors)
Editors
Publisher
Universidad Complutense de Madrid
Abstract
El auge de las redes sociales (Herrera y Codina, 2015), el crecimiento de los blogs y otros medios digitales que se alimentan de los contenidos que aportan sus miembros, han dado lugar a una nueva forma de comercio electrónico conocido como compra social caracterizada por ser un híbrido entre red social y comercio electrónico. Con el fin aportar una nueva perspectiva en los estudios relacionados con el prosumidor digital, el contenido generado por el usuario (UGC), el boca a boca electrónico (eWom) y principalmente del boca a boca electrónico visual (eWom visual) en las comunidades de compra social, esta investigación tiene como objetivo general, el estudio de los mecanismos que posibilitaban y favorecían el eWom visual entre los usuarios de Polyvore, como parte de una estrategia publicitaria utilizada por las marcas de moda, en una comunidad de compra social orientada a este sector.Este trabajo parte de concepto sobre eWom visual establecido por Ritveld et al. (2016, p. 2), para quienes el "eWom visual es cualquier mensaje donde la información principal es visual, es creado por clientes reales o potenciales de un producto, una marca o una institución. El elemento marca es el factor diferenciador entre eWom visual y UGC". En este sentido, y siguiendo a Ritveld et al (2016) en este trabajo para que un mensaje sea considerado eWom visual debe reunir una serie de características: (1) el elemento marca debe estar presente en el mensaje, (2) el contenido del mensaje debe ser 70% visual, (3) el mensaje debe ser elaborado por un consumidor o posible cliente. Si otro usuario comparte este contenido también se considera eWom visual, (4) el mensaje debe estar públicamente en Internet para que otras personas lo puedan ver sin un mínimo de esfuerzo...
The rise and boom of social media (Herrera y Codina, 2015), its growth in terms of blogs among other digital media that feed off the content of what they provide to its members, have given rise to a new form of electronic commerce known as social purchase or social purchasing power, characterized by being a hybrid between social and electronic trade. The purpose of this investigation is to contribute a new perspective in studies related to the digital consumer, the content generated by the users (UGC), electronic word of mouth (eWom) and most importantly visual word of mouth (visual eWom) in social shopping communities. The general objective of this research is to study the different mechanisms that facilitate and support the visual eWom among Polyvore users as part of the marketing strategies utilized by high end brands within the community that consumes these products or brands.Visual eWom "is any message where the main information is visual, created by real customers or potential product, a brand or an institution. The brand element is the differentiating factor between eWom and UGC" (Ritveld et. al., 2016). A message has to meet various characteristics to be considered visual: 1) the brand component has to be present in the message, 2) the content needs to be at least 70% visual, 3) the message has to be created by a consumer or potential client, and 4) the message has to be publicly available on the web so that others can see it with the least effort (Ritveld et al, 2016)...
Description
Tesis inédita de la Universidad Complutense de Madrid, Facultad de Ciencias de la Información, leída el 20-06-2022
Collections