Publication:
Competencias docentes en el profesorado de música novel y experto en educación secundaria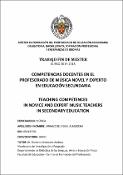 Authors
Advisors (or tutors)
Editors
Abstract
El presente Trabajo de Fin de Máster pretende exponer los resultados obtenidos del estudio comparativo de las competencias docentes en el profesorado de Música novel y experto en educación secundaria. Realizado en el contexto de las prácticas del Máster en un centro escolar del distrito madrileño de Chamartín, el estudio se ha basado en una intervención didáctica en la que se ha implementado una misma Unidad Didáctica sobre notación musical no convencional a 2 grupos de 2º de ESO, por parte de 2 profesoras distintas, una novel y una experta. Tras 7 sesiones de intervención didáctica, los alumnos evaluaron las competencias didácticas de cada profesora, estructuradas en 12 ítems: fomento de la participación del alumnado, gestión de la disciplina en el aula, recursos utilizados en la exposición del tema, dominio del tema y lenguaje utilizado, materiales entregados, planificación y gestión del tiempo de las clases, claridad en las explicaciones, motivación a través de las actividades propuestas, actitud para con el alumnado, resolución de dudas, adecuación de los contenidos a los conocimientos previos, y valores implementados. El trabajo se ha desarrollado desde un enfoque cuantitativo, llevando a cabo un estudio comparativo a través de un diseño cuasi-experimental de 2 grupos experimentales con fase post-test. Los datos fueron recogidos mediante una rúbrica de evaluación, diseñada y validada específicamente para este estudio. El análisis de los datos obtenidos ha permitido la configuración de un marco de referencia de las competencias docentes deseables para un profesor de Música de secundaria eficiente, así como de un listado de las competencias que un profesor novel habrá de atender en sus primeros estadios de labor docente, en orden de prioridad de atención, con el fin de mejorar su praxis en el aula.
The present study aims to show the results obtained from the comparative study of teaching competences in novice and expert music teachers in secondary education. The research has been carried out in the context of the Master's training program, in a school of the district of Chamartín, in Madrid. It has been based on a didactic intervention, developing a unit concerning the non-conventional music notation. 2 different teachers, novice and expert, had implemented the same contents to 2 different groups of second year of secondary education. After 7 sessions, the students evaluated the teaching competences of each teacher, considering 12 items: promotion of student participation, management of the discipline during the classes, resources used in the exposition of the contents, knowledge of the subject and used language, resources delivered, management of the time of class, clearness in the explanations, motivation through the proposed activities, attitude towards students, resolution of doubts, adaptation of the contents to the previous knowledge, and values. This research has been developed from a quantitative approach, carrying out a comparative study through a quasi-experimental design of 2 experimental groups with post-test phase. Data were collected by an evaluation rubric, designed and validated specifically for this study. The analysis of the data has made it possible to create a reference framework of the desired teaching competences of a Music teacher in secondary education, as well as a list of the skills in which a novice teacher should focus in the first years of teaching, in order of priority, to improve their praxis in the classroom.