Publication:
Repositorio de objetos de aprendizaje distribuido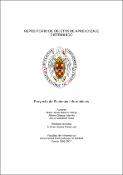 Advisors (or tutors)
Editors
Abstract
En este proyecto de la asignatura Sistemas Informáticos se desarrolla un repositorio distribuido de objetos de aprendizaje, el cual se compone de varios nodos. Cada uno de ellos comparte su propio repositorio con el resto mediante una función de búsqueda. Se han utilizado Web Services para implementar la comunicación entre los distintos nodos del sistema. Dentro de cada uno de éstos, un servidor Tomcat se encarga de gestionar la aplicación y en él se almacenan los objetos de aprendizaje de dicho nodo. Por otra parte, se utiliza un gestor de base de datos DB2 para almacenar la información concerniente a los usuarios (datos personales, permisos…), a los objetos de aprendizaje (nombre, comentarios, autor, ruta física en el servidor, metadatos, fecha de creación…) y a las taxonomías (nombre, ruta…). También se emplea este gestor para la realización de una búsqueda más eficiente sobre los metadatos XML, mediante el lenguaje XQuery [ABSTRACT] In this project of the Sistemas Informáticos subject we develop a distributed repository of learning objects, which is composed of several nodes. Each of these nodes shares his own repository with the rest of them through a search function. We use web services to implement the communication amongst the different system nodes. A Tomcat server manages the application in each node and stores the learning objects of that particular node. A DB2 database manager is used to store the information regarding to the users (personal data, privileges), the learning objects (name, comments, author, path, metadata, creation date… ) and the taxonomies (name, path…). We use this database manager to develop a more efficient search over the XML metadata too, with the XQuery language.
Description
Trabajo de la asignatura Sistemas Informáticos (Facultad de Informática, Curso 2006-2007)
Collections