Publication:
Modelos celulares de inmunodeficiencias congénitas de linfocitos T: aplicación a estudios de expresión y señalización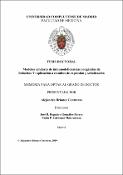 Files
Authors
Advisors (or tutors)
Editors
Publisher
Universidad Complutense de Madrid
Abstract
Los linfocitos T desempeñan uno de los papeles más cruciales en la respuesta inmunológica: la respuesta adaptativa. La activación del linfocito T a través de su receptor, el TCR, desencadena una extensa red de señalización con decenas de proteínas intermediarias diferentes para generar respuestas efectoras adecuadas. El TCR es un complejo octamérico constituido por diferentes cadenas entre las que se encuentra CD247. La ausencia de cualquiera de los componentes del TCR se traduce en un defecto de desarrollo o función de los linfocitos T causante de SCID. Además, en los casos de deficiencias de CD247 se han descrito mutaciones somáticas minoritarias que son capaces de restaurar el defecto de expresión del TCR..
T-lymphocytes play one of the most crucial roles in the immune response:the adaptive response. The activation of the T lymphocyte through its receptor, the TCR, triggers an extensive signalling network with dozens of different intermediate proteins to generate adequate effector responses. TCR is an octameric complex made up of different chains, including CD247. The absence of any of the components of the TCR results in a defect in the development or function of the Tlymphocytes causing SCID. In addition, in cases of CD247 deficiencies, minority somatic mutations have been described as capable of restoring the defect...
Description
Tesis inédita de la Universidad Complutense de Madrid, Facultad de Medicina, Departamento de Inmunología, Oftalmología y ORL, leída el 26-11-2019
Collections