Publication:
Desarrollo y mejora de materiales adsorbentes para capturar CO₂ con producción de H₂ en procesos de gasificación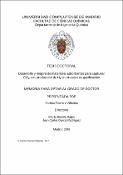 Files
Authors
Advisors (or tutors)
Editors
Publisher
Universidad Complutense de Madrid
Abstract
El desarrollo de la presente Tesis Doctoral se enmarca dentro de la línea de investigación de "Tecnologías de captura de CO2 en precombustión" desarrollada en la Unidad de Valorización Energética de Combustibles y Residuos del Departamento de Energía del Centro de Investigaciones Energéticas, Medioambientales y Tecnológicas (CIEMAT). 1. Introducción Una de las tecnologías más prometedoras para la captura de CO2 con producción de H2 en procesos de gasificación (como alternativa al empleo de absorción química con aminas o adsorción con cambio de presión, PSA) es el empleo de adsorbentes regenerables en lo que se conoce como reacción water gas shift mejorada por adsorción (SEWGS) [1]. En estos procesos, el gas procedente del gasificador y formado fundamentalmente por H2, CO2 y CO se somete a un proceso de enriquecimiento en H2 mediante la reacción water gas shift (WGS). Tradicionalmente, esta reacción se lleva a cabo en dos etapas, una a temperatura elevada (350°C-500°C) seguida de otra etapa a baja temperatura (150°C-250°C) para alcanzar una composición final de CO adecuada (<3%). Pues bien, una alternativa a este proceso la constituye el proceso SEWGS, donde el CO2 se retira del medio a medida que se produce, provocando así un desplazamiento de la reacción WGS hacia conversiones mayores de CO a temperaturas de entre 300°C-500°C ya que se desplaza el equilibrio de la reacción al estar retirando de forma continua uno de los productos (principio de Le Chatelier) y se elimina la necesidad del empleo de un segundo reactor. Interesa por tanto disponer de materiales sólidos regenerables que puedan capturar CO2 en dicho intervalo de temperaturas de un modo eficiente y selectivo [2]...
This doctoral thesis is framed in the investigation research line of "Precombustion CO2 capture technologies" conducted in the Unit of Energy Valorization of Fuels and Wastes of the Energy Department at the Research Centre for Energy, Environment and Technology (CIEMAT). 1. Introduction Some of the most promising technologies for CO2 capture with H2 production in gasification processes (as alternative to liquid amines and pressure swing adsorption (PSA)) include the use of regenerable sorbents in the so-called sorption enhanced water gas shift (SEWGS) reaction process [1]. Industrial water gas shift (WGS) processes require the use of two reactors connected in serie: one at high temperature (350°C-500°C) and another one at low temperature (150°C- 250°C) to reach a final adequate composition of CO (<3%). SEWGS processes constitute an alternative to this method. During the SEWGS approach the CO2 is removed from the reaction media as soon as it is produced. This removal of CO2 causes a displacement of the WGS equilibrium to the products side, following the "Le Chatelier" principle and, in this way, the simultaneous occurrence of two processes in one single reactor at temperatures between 300°C-500°C takes place, avoiding the need of a second reactor. Suitable materials for this process require high CO2 capture capacity and selectivity towards CO2 at that temperature range [2]...
Description
Tesis inédita de la Universidad Complutense de Madrid, Facultad de Ciencias Químicas, Departamento de Ingeniería Química, leída el 02-06-2017
Collections