Publication:
Sustainable Outdoor Advertising in the Contemporary City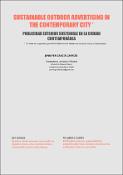 Authors
Advisors (or tutors)
Editors
Abstract
Sustainable outdoor advertising emerges in the contemporary city as the way to guarantee the survival of commercial communication in urban spaces. This advertising must be environmentally responsible and have a systematic approach that allows its communicative actions to be integrated architectonically, urbanistically and socially in the urban spaces. In this way, the entire advertising system and the companies adhering to it can behave as corporate citizens. To this end, advertising agents need to focus on reducing the ecological footprint in order to achieve sustainability over the time of their activity. They also need to ensure that their actions develop cultural and symbolic functions in the urban space, which are integrated and adapted to the environment and generate a shared value for the whole society. In this sense, the aim of this research paper is to develop an action model that, when properly implemented, achieves sustainable outdoor advertising in cities. A model that also contemplates the use of the new technologies and their characteristics in order for the outdoor advertising to adapt to the architecture and regional tastes of each city.
La publicidad exterior sostenible se erige en la ciudad contemporánea como la vía para garantizar la pervivencia de la comunicación comercial en los espacios urbanos. Esta, ha de ser responsable medioambientalmente y tener un enfoque sistémico que permita que sus acciones comunicativas se integren arquitectónica, urbanística y socialmente en los espacios urbanos. De esta manera, se consigue que todo el sistema publicitario y las empresas adheridas a él se comporten como ciudadanos corporativos ("corporate citizenship"). Para ello, es necesario que los agentes publicitarios se centren en la reducción de la huella ecológica en aras de alcanzar la sostenibilidad en el tiempo de su actividad. También han de preocuparse porque sus acciones desempeñen funciones culturales y simbólicas en el espacio urbano, se integren y se adapten al entorno y generen un valor compartido para toda la sociedad. Esta investigación establece un modelo de actuación que, implementado adecuadamente, permitirá integrar una publicidad exterior sostenible en las ciudades. Un modelo que, además, contempla el uso de las nuevas tecnologías y sus características con la finalidad de que la publicidad exterior se adapte a la arquitectura y a los gustos regionales de cada ciudad.
Collections