Publication:
Cambios socioeconómicos causados por las TIC y sus impactos en la sociedad red de Shenzhen, China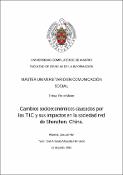 Authors
Advisors (or tutors)
Editors
Abstract
El desarrollo de la tecnología ha cambiado en gran medida el modelo de producción y de vida de los seres humanos. Mientras que la gente disfruta la comodidad que aportan las TIC en las actividades y comunicación sociales, también está experimentando sutilmente el impacto que producen. Sobre esta transformación social, no hay experiencia que pueden consultar. El presente trabajo utiliza la metodología de análisis relacional de fuentes y datos secundarios y toma Shenzhen como ejemplo para analizar el impacto del cambio tecnológico en la sociedad urbana, así como plantea cuestiones y preocupaciones sobre la tendencia de desarrollo de las actividades sociales según el modelo social actual. Sacamos dos conclusiones: los cambios socioeconómicos producidos por las TIC llevan una tendencia de individualismo en sociedad de colectivismo; la dependencia tecnológica conduce a la adicción tecnológica y el fenómeno "neo-otaku" como preocupaciones sociales.
The development of technology has changed to a great extent the production and life model of human beings. While people enjoy the comfort that ICTs provide in social activities and communication, they are also subtly experiencing the impact they produce. About this social transformation, there is no experience that you can consult. This paper uses the methodology of relational analysis of secondary sources and data and takes Shenzhen as an example to analyze the impact of technological change on urban society, as well as raises questions and concerns about the development trend of social activities according to the social model current. We draw two conclusions: the socioeconomic changes produced by ICT leads a tendency of individualism in collectivism society; technological dependence leads to technological addiction and the "neo-otaku" phenomenon as social concerns.