Publication:
Fast timing measurement using an LaBr3 (Ce) scintillator detector array coupled with gammasphere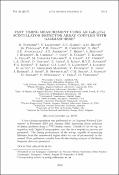 Authors
Carmona Gallardo, Mariano
Advisors (or tutors)
Editors
Abstract
A fast-timing experiment was performed at the Argonne National Laboratory in December 2015 and January 2016, measuring decay radiation of fission products from a Cf-252 fission source. Details of the set-up, integration with Digital Gammasphere, and the data acquisition system are presented. The timing performance of the set-up, capable of measuring lifetimes from the nanosecond region down to tens of picoseconds, is discussed. First preliminary results from the fast-timing analysis of the fission fragment data are presented.
Description
Artículo publicado por más de 10 autores. This work was supported by Science and Technology Facilities Council (UK). This material is based upon work supported by the U.S. Department of Energy, Office of Science, Office of Nuclear Physics under contract number DE-AC02-06CH11357. This research used resources of ANL's ATLAS facility, which is a DOE Office of Science User Facility. This work was also supported by the Bulgarian National Foundation for Scientific Research under grant number DFNI-E02/6. P.H.R. acknowledges partial support from the UK National Measurement Office.
Collections