Publication:
Interacción sorbatos-levaduras en alimentos: modelización de su efecto en medio sólido, biología molecular y detección de su transformación en 1, 3-Pentadieno por MWIR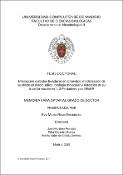 Files
Authors
Advisors (or tutors)
Editors
Publisher
Universidad Complutense de Madrid
Abstract
El ácido sórbico y sus sales son conservantes ácidos débiles cuya actividad fungistática reside en las formas sin disociar favorecidas a pHs ácidos. Algunos microorganismos pueden convertirlos en compuestos generalmente malolientes sin actividad antimicrobiana, como el 1,3-pentadieno. La base molecular de su producción, atribuida a la proteína Pad, se ha estudiado mayoritariamente en hongos y en la levadura S. cerevisiae. La mayoría de los alimentos donde se ha descrito la producción de 1,3-pentadieno ha sido en alimentos sólidos, en los cuales el crecimiento microbiano es muy diferente respecto al crecimiento en alimentos líquidos, lo que hace que no sea fiable extrapolar directamente los datos de uno a otro. Ante problemas de deterioro por este compuesto, las industrias recurren a técnicas caras de cromatografía de gases acoplada a espectrometría de masas para su detección...
Sorbic acid and its salts are weak acidic preservatives whose fungistatic activity are caused by its undissociated forms favored at acid pHs. Some microorganisms can convert these acids generally into bad odor compounds without antimicrobial activity, such as 1,3-pentadiene. The molecular basis of its production has been studied mainly in fungi and the yeast S. cerevisiae, attributed to Pad1 protein. Most foods in which 1,3-pentadiene production has been described are solid, where microbial growth is very different from liquid ones and it is not accurate extrapolate data from one to another. Industries with this kind of spoilage problems use expensive techniques of gas chromatography coupled to mass spectrometry for their detection. Therefore, the general objectives of this Thesis are:1. Modelling of yeast surface growth on solid media and its application to the inhibitory effect of potassium sorbate.2. Molecular analysis of 1,3-pentadiene production by D. hansenii and Z. rouxii yeasts.3. Use of a detector based on Mid-Wave InfraRed spectroscopy (MWIR) to detect gases responsible of food spoilage by yeast...
Description
Tesis doctoral de la Universidad Complutense de Madrid, Facultad de Ciencias Biológicas, Departamento de Microbiología III, leída el 30-06-2017
Collections