Publication:
Ser mujer y madre en prisión. Análisis del trabajo educativo realizado en la unidad externa de madres "Jaime Garralda" a través de las voces de las mujeres internas: una alternativa al centro penitenciario cerrado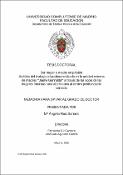 Files
Authors
Advisors (or tutors)
Editors
Publisher
Universidad Complutense de Madrid
Abstract
La delincuencia femenina ha sido tradicionalmente un tema controvertido. Se ha tratado de dar explicación desde teorías bioantropológicas, en las cuales se pone el énfasis en la inferioridad de la mujer con respecto al hombre por naturaleza, hasta los más actuales, que refieren aspectos socioeducativos y específicos del género femenino, que estando interrelacionados, actúan como factores predisponentes para la conducta delictiva. Ejemplos de estos factores son la interrupción prematura del proceso educativo, la pobreza, el consumo de sustancias adictivas, el embarazo juvenil o haber sido víctima de violencia de género.Las mujeres continúan estando en una situación de desigualdad con respecto a los varones en el interior de los centros penitenciarios. Las limitaciones en las instalaciones, una formación que refuerza la función social asignada de forma tradicional a la mujer y las circunstancias específicas que requieren las madres y los menores son algunas de las situaciones a las que deben ser atendidas. Además, la educación ha de estar presente en la línea educativa que se lleva a cabo con estas mujeres, ya que es el medio para dar respuesta a las necesidades y carencias que presenta esta población...
Female crime has traditionally been a very controversial topic. A lot of explanations have been tried to give from a bioanthropological point of view, in which female's inferiority is emphasized in relation to men by nature, to the most up-to-date, which relate socioeducative and female gender aspects, which being interrelated, act as predisposing aspects for the criminal behaviour. Examples of these predisposing factors are the premature interruption of the educational process, poverty, the consumption of addictive substances, teenage pregnancy or suffering gender violence.Nowadays, women are still in a situation of inequality in relation to men within prisons. The limitations at the premises, education which reinforce the social function traditionally assigned to women and the specific circumstances which mother and children require are some of the circumstances wich must be analyzed. Moreover, education has to be present for these women, since it is the way of giving answers to the needs and lacks of this population...
Description
Tesis de la Universidad Complutense de Madrid, Facultad de Educación, Departamento de Teoría e Historia de la Educación, leída el 19-06-2017
Collections