Publication:
Aprendizaje participativo e investigación-acción en el espacio público urbano: análisis, diagnóstico y propuesta de intervención social en una calle del barrio de Embajadores de Madrid. APRENPART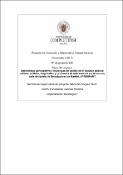 Advisors (or tutors)
Editors
Abstract
El objetivo del presente proyecto es poner en práctica una modalidad de aprendizaje participativa, a través de la realización de una investigación-acción y de la confección de una propuesta de intervención en el espacio público urbano madrileño, más concretamente, en el ámbito de una calle del barrio de Embajadores. El proyecto se apoya en los proyectos llevados a cabo en esta misma dirección en los últimos cursos, en otras asignaturas (Sociología Urbana, Sociología del Territorio y Transformaciones del Espacio Social e Intervenciones Urbanas). Nuestra experiencia previa en el desarrollo de este tipo de proyectos docentes, basados en la metodología de la investigación-acción, ha ratificado, a nuestro juicio, la eficacia y eficiencia del aprendizaje colaborativo y activo de los estudiantes. A su vez, este aprendizaje se ha desplegado tanto en el aula como en el laboratorio informático, así como en el espacio público exterior en estudio. La formación académica e investigadora así generada ha incluido, además, la confección de una propuesta de intervención en el espacio urbano madrileño considerado, elaborada junto a una empresa colaboradora (Imprevisto), que no sólo se ha presentado en el aula sino también ante la institucion colaboradora y demandante en este proyecto, el Ayuntamiento de Madrid.
The objective of this project is to implement a form of participatory learning, through conducting action research and the preparation of a proposal for intervention in the Madrid urban public space, more specifically in the area of ​​a street Ambassadors neighborhood. The project is supported by the projects carried out in this direction in recent courses in other subjects (Urban Sociology, Sociology of the Territory and Transformations of social space and urban interventions). Our previous experience in the development of such educational projects, based on the methodology of action research, has ratified, in our view, the effectiveness and efficiency of collaborative and active student learning. In turn, this learning has been deployed both in the classroom and in the computer lab, and outside public space under study. Academic and research training thus generated has also included the preparation of a proposal for intervention in the Madrid urban area considered, developed together with a partner company (Improvistos), which has not only presented in the classroom but also to the institution and demanding partner in this project, the City of Madrid.