Publication:
Marketing aplicado a los fenómenos culturales: la digitalización en el festival de cine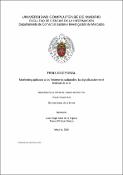 Files
Authors
Advisors (or tutors)
Editors
Publisher
Universidad Complutense de Madrid
Abstract
El ámbito amplio de trabajo de la presente tesis doctoral es el marketing aplicado a los fenómenos culturales. Y se hacía preciso concretarlo en un campo de acción más estricto y específico; por eso hemos elegido el fenómeno cultural del cine y, dentro de él, el festival de cine; y todo ello en el campo concreto de la digitalización. Lo digital ha cambiado no sólo la forma en la que consumimos, trabajamos o nos relacionamos socialmente; también ha transformado cómo nos entretenemos. No es de extrañar, por tanto, que la digitalización haya entrado con fuerza en el cine y que tenga un importante impacto sobre el mismo. Al tiempo, gracias a esta tecnología digital, el espectador ha incrementado sustancialmente su capacidad de elección. En este contexto de la digitalización en el cine, se sabe que la asistencia a la sala ha disminuido y que mucha gente prefiere ver películas en su casa, en la televisión o a través de internet; pero ¿cómo se comporta la asistencia a los festivales de cine?... Esto es lo que hemos pretendido contrastar con la presente tesis doctoral: si los efectos de la digitalización en el cine encuentran correspondencia o no en el festival de cine, en relación con las audiencias, específicamente. Como justificación de la tesis, nos apoyamos en tres grandes razones: a) La consideración de que existe un cierto vacío bibliográfico en este campo, no sólo en cuanto a los festivales, sino también en cuanto al aspecto comercial de los mismos, particularmente en lo que al fenómeno de la digitalización se refiere; b) Nuestra convicción de que, en la combinación del análisis de dichos fenómenos, su relación y efectos de la digitalización sobre el festival, la tesis puede aportar novedad académica y servir como un puente entre cine, festival y digitalización; y c) La experiencia profesional de esta doctoranda en dicho campo, que nos ha proporcionado acceso a los entresijos organizativos y operativos del mismo, al tiempo que nos ha provisto de una red de contactos entre profesionales de la industria de gran utilidad práctica para orientar, plantear y abordar la investigación empírica aportada en la tesis...
The breadth of the scope of this dissertation's topic: marketing applied to cultural phenomena, makes it necessary to limit the field of study to a more specific one. To that effect we have restricted our research to the cultural phenomenon of film, focusing on the film festival, in particular, all within the field of digitalization. Digital technology has certainly changed not only how we consume, how we work or how we relate socially; it has also transformed how we spend our leisure time. Therefore, we shouldn't be surprised to find out it has also entered the film industry, with remarkable effects. One of many is giving the spectators direct access to content, thus increasing their choosing power. It is well known that, in this context of extensive digitalization in film, moviegoing has declined and many people prefer watching films at home, on TV or on the internet, the question then is what happens with attendance at the film festival? This particular question is what we aim to verify through this dissertation: whether the effects of digitalization in film are present as well at the film festival, specifically where it pertains to the audience. Our justification for this research is based on three reasons: a) the lack of a strong body of scholarly research in this field, about film festivals, in general, and their commercial aspects in particular, specifically in reference to the phenomenon of digitalization; b) our strong belief that through the combination of the analysis of these phenomena, their relationships and effects of digitalization on the festival, this dissertation can bring academic innovation to the field and serve as bridge between film festival and digitization; c) this PhD's candidate professional experience in this field, which has given us access to its organizational and operational intricacies, whilst providing us with a wide network of contacts among industry professionals that have proved very useful at the time of the empirical research phase of this thesis...
Description
Tesis inédita de la Universidad Complutense de Madrid, Facultad de Ciencias de la Información, Departamento de Comercialización e Investigación de Mercados, leída el 16-12-2016
Collections