Publication:
El campo volcánico de Calatrava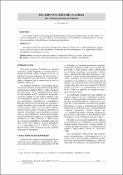 Authors
Advisors (or tutors)
Editors
Publisher
Asociación Española para la Enseñanza de las Ciencias de la Tierra
Abstract
En la región volcánica miocena-pliocena de Campos de Calatrava aparecen más de 200 centros volcánicos monogenéticos, cuya actividad ha sido esencialmente estromboliana y freatomagmática. Se trata de rocas alcalinas y ultraalcalinas y localmente ultrapotásicas.
The Miocene-Pliocene volcanism of Campos de Calatrava consists of over 200 monogenetic volcanic centres which activity has been essentially strombolian and phreatomagmatic. It is composed by alkaline, ultraalkaline and ultrapotassic rocks.
Collections