Publication:
The Graphie Latine Movement and the French Typography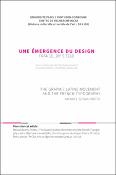 Authors
Advisors (or tutors)
Editors
Abstract
Most works dealing with the history of typography, many of Anglo-Saxon authors, reflect the period covered by the two decades after World War II practically dominated by neogrotesque typefaces. However, there were some reactions against this predominance, mainly from traditionalist positions that are rarely studied. The main objective of this research is thus to reveal the particular case of France, where there was widespread opposition to linear typefaces, which results into different manifestations in the field of national typography.
Collections