Publication:
Traducción parcial y análisis de la obra "La sexualité dévoilée : Sexologue, féministe et musulmane"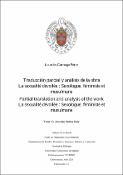 Authors
Advisors (or tutors)
Editors
Abstract
En el presente trabajo de fin de grado se realiza una traducción parcial y un análisis general de la obra "La sexualité dévoilée : Sexologue, féministe et musulmane", de Nadia El Bouga. Concretamente, se escogen cuatro capítulos diferentes para ilustrar de manera completa el contenido del ensayo, que consta de 234 páginas en total. El objetivo de este trabajo es profundizar en los temas de la sexualidad, el feminismo y el islam unidos, como lo hace la autora original, aprender más de ellos, darles mayor difusión en la medida de lo posible y, por último, poder proponer una traducción fiel al estilo de la autora. Para ello, se buscan textos paralelos en español que guíen al traductor en su labor. Después de proponer una traducción para los fragmentos escogidos, se plantean los problemas de traducción más relevantes, lo que da paso a las conclusiones del trabajo.
In this thesis, both a partial translation and a general analysis of the book "La sexualité dévoilée : Sexologue, feministe et musulmane", by Nadia El Bouga are made. Specifically, four different chapters are chosen to fully illustrate the content of the essay, which has a total of 234 pages. The aim of this paper is to go in depth in the themes of sexuality, feminism and Islam all together, as the original author does, to learn more about them, to make them as widely known as possible and, finally, to be able to propose a translation that is true to the author's style. To this end, parallel texts in Spanish are researched to guide the translator in their work. After proposing a translation for the chosen passages, the most relevant translation problems are addressed, leading to the conclusions of the work.