Publication:
Teoría y práctica en Trabajo Social: un estudio cualitativo acerca de su integración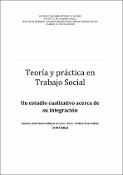 Advisors (or tutors)
Editors
Abstract
Existen numerosas dificultades para relacionar la teoría con la práctica en Trabajo Social, pese a que ambas no pueden pensarse de forma diferenciada. El objetivo principal de este estudio es conocer qué papel juega la teoría en la práctica profesional del Trabajo Social. Mediante el análisis cualitativo del discurso se exploran las interpretaciones de trabajadoras sociales, estudiantes avanzados y profesoras de Trabajo Social. Se utilizan las técnicas de análisis bibliográfico, entrevista en profundidad y grupos de discusión. Las trabajadoras sociales utilizan los conocimientos teóricos de modo ecléctico con diferentes niveles de reflexión teórica. El conocimiento teórico es un aspecto importante a tener en cuenta en la práctica pero no es considerado fundamental para la consecución de la misma. Otros tipos de conocimiento tales como el factual, el práctico o implícito son igual o más necesarios que el conocimiento teórico. Los aspectos actitudinales y volitivos cobran un espacio fundamental en la práctica profesional. Asimismo, aspectos relativos a la organización, así como los sociales y políticos condicionan la práctica y la implementación teórica. El trabajo en equipo, la supervisión teórica y la reflexión personal crítica, así como una formación más práctica en la universidad, aparecen como factores que contribuirían a una mejor integración teórico práctica.
There are difficulties in theory and practice integration in Social Work, though it is known both aspects cannot be separated. The main objective of the study is to know the role of the theory in Social Work practice. Social workers, students and professor´s interpretations will be explored through qualitative analyses of the discourses. Literary review, in-depth interviews and discussion groups will constitute the techniques for the fieldwork. Social Workers use theoretical knowledge in an eclectic way, with different levels of critical reflection. Theory is considered important but not essential for practice. Other kinds of knowledge such as factual, practical or implicit are equally or more necessary than the theoretical one. Attitudes and values are very important features in practice. Organizational, social and political aspects determine practice and theory implementation. Teamwork, supervision and self-critical reflection, as well as a more practical training at university, are factors that can contribute to a better theory- practice integration.