Publication:
Optimización de memoria dinámica en sistemas emportados multimedia mediante computación evolutiva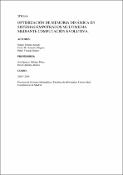 Advisors (or tutors)
Editors
Abstract
El propósito de nuestro proyecto ha sido la implementación de un algoritmo genético multiobjetivo (del tipo VEGA), en el que dada una aplicación para un sistema empotrado a optimizar, devuelva las mejores estructuras de datos dinámicas para las correspondientes variables dinámicas de dicha aplicación. Para ello, nos hemos basado en los resultados obtenidos en los perfiles de ejecución de aplicaciones reales y de resultados teóricos sobre las implementaciones de dichas estructuras de datos. Los datos teóricos se han obtenido aplicando la metodología desarrollada por el profesor David Atienza en su tesis doctoral "Metodología multinivel de refinamiento del subsistema de memoria dinámica para los sistemas empotrados multimedia de altas prestaciones". Como podremos comprobar a lo largo del desarrollo de esta memoria, los resultados obtenidos demuestran la validez de nuestra aproximación. [ABSTRACT] The objective of our project has been the implementation of a multi-objective genetic algorithm (i.e., VEGA type), where given an application to be optimized for a certain embedded system, it returns the best DDT for each of included dynamic variable in the target application. The developed framework makes use of application profiling and performs the exploration using as basis to prune the design space the theoretical modelling on the implementations of the DDTs presented in the methodology developed by Prof. David Atienza in his thesis, entitled "Multi-Level Refinement Methodology of the Dynamic Memory Subsystem for High- Performance Multimedia Embedded Systems".
Description
Trabajo de la asignatura Sistemas Informáticos (Facultad de Informática, Curso 2005-2006)
Collections