Publication:
Fortunes et infortunes du précepte horatien "utile dulci" dans la littérature française: essai d'interprétation du Classicisme à la Modernité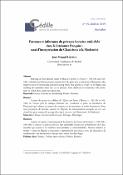 Advisors (or tutors)
Editors
Publisher
Asociación de Profesores de Francés de la Universidad Española
Abstract
À partir de quatre vers célèbres de l'"Épître aux Pisons" d'Horace (v. 333-334 et 343-344), la critique puis la pratique littéraire ont transformé le poète en bienfaiteur de l'humanité qui redresse les mœurs des hommes en les instruisant et en les divertissant. Nous nous proposons de dévoiler, comme en filigrane, les détournements auxquels ces vers ont donné lieu pour marquer le passage d'un âge à un autre, du Classicisme à la Modernité.
Drawing on four famous verses of Horace's "Epistle to Pisones" (v. 333-334 and 343-344), criticism and literary practice transformed the poet into a benefactor of humanity who improves men by instructing and entertaining them. Our goal is to reveal ―as in filigree and marking the transition from one era to another, from classicism to modernity― the deviations to which these verses have given rise.
A partir de cuatro versos famosos de la "Epístola a los Pisones" de Horacio (v. 333-334 y 343-344), la crítica y la práctica literaria han convertido al poeta en un benefactor de la humanidad que mejora a los hombres instruyéndolos y entreteniéndolos. Nuestro objetivo es revelar ―como en filigrana y marcando la transición de una época a otra, del clasicismo a la modernidad― las desviaciones a las que estos versos han dado lugar.
Collections