Publication:
El problema del "justo sufriente" y la diagnosis incierta. De Job y sus paralelos mesopotámicos y la experiencia médica contemporánea. / The problem of the "righteous sufferer" and uncertain diagnosis. About Job and his mesopotamic parallels and contemporary medical experience.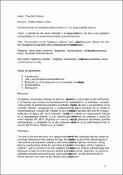 Authors
Advisors (or tutors)
Editors
Abstract
El objetivo del presente trabajo es llevar a cabo un análisis del problema del sufrimiento y el impacto que provoca la incertidumbre de la enfermedad en el individuo, tomando como punto de partida los ejemplos aportados por la figura de Job y sus paralelos en la tradición literaria mesopotámica y comparándolos con casos tomados de la medicina contemporánea. A través del estudio de las construcciones literarias del Oriente Antiguo referidas a la figura del "justo sufriente", aplicando un método de interpretación basado en la antropología médica, y a la contextualización histórica de estudios y casos de enfermedades de difícil diagnosis en nuestra sociedad, se pretende establecer posibles continuidades y contrastes en la aproximación al fenómeno de la enfermedad entre el mundo del Próximo Oriente y la actualidad. / The aim of the present work is to analyze the problem of the suffering and the impact of uncertain illnesses in the persona through the comparative study of the biblical figure of Job and his mesopotamic parallels and testimonies of contemporary medicine. Using literary constructions of the Ancient Near East referred to the figure of the "righteous sufferer", and by means of an interpretative method based on medical anthropology and historical context of contemporary studies and cases of uncertain diseases, we intent to establish possible continuities and contrasts in the approach to the phenomenon of illness between the world of the Middle East and the present.