Publication:
Las empresas españolas que patentan en la oficina europea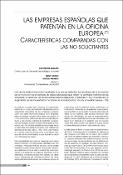 Advisors (or tutors)
Editors
Publisher
Ministerio de Industria, Energía y Turismo
Abstract
El objetivo de este trabajo es aportar evidencia sobre las características de las empresas españolas que solicitan patentes a la Oficina Europea entre 1998 y 2006, comparándolas con las de otras empresas no solicitantes de patentes durante el mismo periodo y haciendo especial énfasis en aquellas que han participado en programas públicos de apoyo a la I+D en cuya gestión participa el Centro para el Desarrollo Tecnológico Industrial.
The objective of this paper is to provide evidence about the features of Spanish firms applying for patents to the European Patent Office between 1998 and 2008. We compare these firms with a control sample of non-applicants during the same period and focus especially on firms that have been awarded public aid for R&D projects by the Centre for the Development of Industrial Technology.
Citation
ARCHIBUGI, D. (1992): «Patenting as an indicator of technological innovation: a review», Science and Public Policy, vol. 19, nº 6, pp. 357-368. BASBERG, B.L. (1987): «Patents and the measurement of technological change: A survey of the literature», Research Policy, vol. 16, nº 2-4, pp. 131-141. BENEITO, P. (2006): «The innovative performance of in-house and contracted R&D in terms of patents and utility models», Research Policy, nº 35, pp. 502 - 517. BROUWER, E. y KLEINKNECHT, A. (1999): «"Innovative output, and a firm's propensity to patent. An exploration of CIS micro data», Research Policy, nº 28, pp. 615-624. ESTEVE, S. y RODRÍGUEZ, R. (2009): «The dynamics of trade and innovation», Documento de Trabajo 467, Fundación de las Cajas de Ahorros: Madrid. GRILICHES, Z. (1990): «Patent Statistics as Economic Indicators: A Survey», Journal of Economic Literature, vol. 28, nº 4, pp. 1661-1707. GRILICHES, Z., PAKES, A. y HALL, B.H. (1986): «The value of patens as indicators of inventive activity», NBER Working Paper 2083, National Bureau of Economic Research, Cambridge, MA. HUERGO, E. y MORENO, L. (próxima publicación): «Does history matter for the relationship between R&D, Innovation and Productivity?», Industrial and Corporate Change. DOI: 10.1093/icc/DTR019. HUGHES, A. y Mina, A. (2010): «The impact of the patent system on SMEs», Working Paper 411, Centre for Business Research, University of Cambridge. INE (2011): Indicadores del sector de alta tecnología. Año 2009. KAISER, U. y Schneider, C. (2005): The Cebr Matched PatentEmployerEmployee Data Set, Centre for Economic and Business Research, mimeo, Copenhagen. LABEAGA, J. M. y MARTÍNEZ-ROS, E. (1994): «"Estimación de un modelo de ecuaciones simultáneas con variables dependientes limitadas: una aplicación con datos de la industria española», Investigaciones Económicas, vol. 18, nº 3, pp. 465-489. OECD (1992, 1996): Oslo Manual, Paris, primera y segunda ediciones. PAVITT, K. (1988): «Uses and abuses of patent statistics», en F.J. van Raan (ed.): Handbook of Quantitative Studies of Science and Technology, Elsevier Science Publishers, Amsterdam. THOMA, G., TORRISI, S., GAMBARDELLA, A., GUELLEC, D., Hall, B.H. y Harhoff, D. (2010): «Harmonizing and combining large datasets- An application to firm-Level patent and accounting data», NBER Working Paper 15851, National Bureau of Economic Research, Cambridge, MA.
Collections