Publication:
La articulación de las identidades sociales y colectivas: una perspectiva situada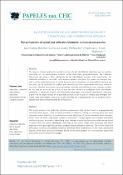 Advisors (or tutors)
Editors
Publisher
Centro de Estudios sobre la Identidad Colectiva. Universidad del País Vasco
Abstract
El presente trabajo analiza las manifestaciones de las identidades colectivas que es posible encontrar en un determinado espacio social delimitado geográficamente, las ciudades alicantinas de Alcoy y Elda, partiendo de las identidades sociales más importantes. Se pretende contribuir a deslindar teóricamente ambos conceptos, los cuales no siempre han sido tratados adecuadamente. A través de entrevistas a expertos, en profundidad y grupos de discusión, se ha realizado un análisis que identifica los más importantes discursos sobre el nosotros colectivo que encontramos en ambas ciudades, remitiéndonos a los campos sociales en los que se articulan las prácticas que les dan entidad y configuran esas identidades colectivas. El resultado muestra las dificultades para seguir articulando identidades colectivas a partir de las experiencias en la actividad productiva principal, al tiempo que emergen con fuerza unas identidades colectivas locales basadas en la participación en un espacio cívico-político que articula buena parte de la vida social.
This paper analyzes the collective identities expressions that can be found in a geographically bounded social space, cities of Alcoy and Elda in Alicante, having as starting point the most important social identities. A contribution to the definition of bounds between both concepts, which have not been adequately treated, is intended. Through expert and in-depth interviews and focus groups, an analysis identifying most relevant discourses about the collective-we found in both cities has been developed, referring to the social fields that articulate the social practices which give significance and configure these collective identities. The results show the difficulties to keep articulating collective identities from experiences in the main productive activity, while local collective identities based on the participation in a civic-political space that articulates most of social life emerges.
Collections