Publication:
Narrativas y emociones: El intercambio de conocimiento como emoción secundaria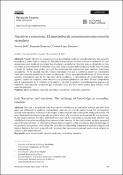 Advisors (or tutors)
Editors
Abstract
Nuestro objetivo es examinar por qué la confianza puede ser considerada como una emoción secundaria y cómo ésta se aborda de diferente manera en un contexto estético u ordinario, lo cual proporciona otro modo de investigar las emociones secundarias. Nuestra tesis se desarrolla en tres secciones y una conclusión. En la primera sección, hemos desarrollado ejemplos y hecho observaciones a modo de análisis para probar por qué las narrativas son importantes para nuestras emociones secundarias. En la segunda sección, hemos examinado por qué la confianza puede ser considerara como una emoción secundaria así como establecer un criterio para identificarla como tal. En la tercera sección, presentamos una de las funciones de la confianza, el intercambio de conocimiento entre agentes, cuando se comparte conocimiento en un proceso epistémico con otros. Hemos comprobado que la construcción de la relación entre sujetos y objetos se produce mayoritariamente gracias a la confianza. Una emoción secundaria que representa lazos afectivos entre sujetos para acceder a una emoción primaria.
Our aim is to examine why trust can be considered a second-order emotion and how trust plays out differently in aesthetic and ordinary contexts can provide another mode for investigating second-order emotions. Our thesis is developed in three sections and a conclusion. In the first section, we have illustrated remarks and example analysis to show why narratives are important for our emotions. In the second section, we have examined how trust can be considered a second-order emotion and established criteria for identifying it as a second-order emotion. In the third section, we have presented one of the aims of trust, i.e. sharing knowledge between agents, when a testimony shares knowledge in an epistemic trust process with others.We have shown relationship construction between subjects and objects thanks to the trust, a second-order emotion that represents emotional ties between subjects to achieve a first-order emotion.
Collections