Publication:
Phase-diagrams of simple fluids with extreme pair potentials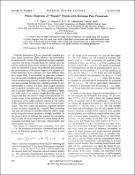 Advisors (or tutors)
Editors
Publisher
American Physical Society
Abstract
It is shown that strongly reducing the range of the attractions of a simple fluid will transform its phase diagram from the usual type, with a fluid-fluid critical point and a fluid-fluid-solid triple point, into its fluid-solid mirror image, with a solid-solid critical point and a solid-solid-fluid triple point. This scenario could be of relevance to the phase behavior of colloidal dispersions.
Description
© 1994 The American Physical Society. C.F.T. wishes to acknowledge the DGICYT (Spain) (PB91-0378). M.B. acknowledges the FNRS (Belgium) and also the Association Euratom-Etat Belge. H.N.W.L. gratefully acknowledges several valuable discussions with D. Frenkel. We thank D. Frenkel for sending us a copy of [12] prior to publication.
Citation
[1] W. B. Russel, D. A. Saville, and W. R. Schowalter, Colloidal Dispersions (Cambridge University Press, Cambridge, 1991), 2nd ed. [2) P. N. Pusey, in Liquids, Freezing and Glass Transition, edited by J. P. Hansen, D. Levesque, and J. Zinn-Justin (North-Holland, Amsterdam, 1991),p. 763. [3] J. P. Hansen and I. R. McDonald, Theory of Simple Liquids (Academic Press, London, 1976), 1st ed. [4) B. Firey and N. W. Ashcroft, Phys. Rev. A 15, 2072 (1977). [5] R. LeSar, R. Najafabadi, and D. J. Srolovitz, Phys. Rev. Lett. 63, 624 (1989). [6] A. P. Gast, C. K. Hall, and W. B. Russel, J. Colloid. Interface Sci. 96, 251 (1983). [7] S. Emmett and B. Vicent, Phase Transitions 21, 197 (1990). [8] H. N. W. Lekkerkerker, W. C-K. Poon, P. N. Pusey, A. Stroobants, and P. B. Warren, Europhys. Lett. 20, 559 (1992). [9] E. J. Meijer and D. Frenkel, J. Chem. Phys. (to be published). [10] M. H. J. Hagen, E. J. Meijer, G. C. A. M. Mooij, D. Frenkel, and H. N. W. Lekkerkerker, Nature (London) 365, 425 (1993). [11] C. F. Tejero and M. Baus, Phys. Rev. E 48, 3793 (1993). [12] P. Bolhuis and D. Frenkel (to be published).
Collections