Publication:
Estudio anatómico de la región lateral del codo. Descripción de las estructuras implicadas en la epicondilitis lateral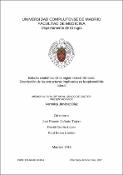 Files
Authors
Editors
Publisher
Universidad Complutense de Madrid
Abstract
La causa fundamental de la epicondilalgia sigue siendo desconocida. Se han desarrollado a lo largo de los años múltiples teorías que implican diversas estructuras anatómicas de la región lateral del codo. En la actualidad la hipótesis etiológica que más peso y aceptación tiene en la comunidad científica es la tendinosis en el origen proximal de la musculatura extensora. El músculo que típicamente se ha implicado en este proceso es el extensor radial corto del carpo (ECRB), aunque también se ha descrito afectación del extensor común (EDC) en segundo lugar. Inicialmente este proceso fue descrito como una patología inflamatoria; sin embargo, hoy día esta aseveración ha sido rechazada objetivándose un proceso degenerativo del tendón con unas características histológicas muy concretas que algunos autores han agrupado bajo el término hiperplasia angiofibroblástica. Este proceso degenerativo tendría su origen en microrroturas producidas por microtraumatismos secundarios al uso repetitivo y continuado de la musculatura, con un fracaso en el proceso de reparación favorecido por una hipotética pobre vascularización del tendón. Entre el 8% y el 25% de los pacientes no son respondedores a ninguna modalidad de tratamiento para la tendinosis. A estos datos se suman las descripciones de hallazgos patológicos en otras estructuras adyacentes a la musculatura. El ligamento lateral externo y la cápsula articula se encuentran en íntima relación a los vientres musculares, habiéndose descrito continuidad entre estas estructuras a nivel macroscópico y mediante cortes histológicos. Se han descrito cambios degenerativos similares a los mencionados anteriormente para los tendones extensores en el espesor del ligamento anular, así como la presencia de rupturas en la cápsula anterior asociados a los grados más severos de tendinosis...
The exact etiology of lateral epicondylitis is still unknown. Among the years, several hypotheses have been developed involving multiple anatomical structures around the lateral area of the elbow. Nowadays, the most popularized theory about the pathogenesis of lateral epicondylitis is tendinosis of the extensor tendon origin. Extensor carpi radialis brevis (ECRB) has been the most frequently muscle involved, followed by extensor digitorum comunis (EDC). Pathology was firstly described as an inflammatory process; however, this assertion has been refused, observing intrasubstance degeneration of extensor tendons. Histological findings have been named as angiofibroblastic hyperplasia. The main cause of this degenerative process is microtears secondary to microtraumatism, because of the repetitive and continue use of extensor muscles. Healing process fails due to a hypothetical poor vascular supply, cronifying this degeneration of the tendon substance. From 8% to 25% of patients do not respond to any kind of treatment. Those data, supported by pathological findings in surrounding anatomical structures, have propelled new hypothesis about ethiopathogenesis of lateral epicondylitis. The relationship between anatomical structures are really important regarding this pathology. Lateral collateral ligament and joint capsule present structural continuity with extensor muscles. Similar degenerative changes have been described in both, as well as capsule ruptures, associated with the most severe grades of tendinosis. Once the tendon is damaged, it cannot keep on its supporting function, so tensile forces are transmitted to the ligament and joint capsule exceeding their own resistance and secondary producing degenerative changes...
Description
Tesis de la Universidad Complutense de Madrid, Facultad de Medicina, Departamento de Cirugía, leída el 05-06-2017
Collections