Publication:
Bioformación de sulfuros y carbonatos en ambientes de lago salino (Mioceno, Cuenca de Madrid): Implicaciones en la alteración de silicatos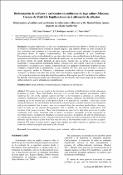 Files
Advisors (or tutors)
Editors
Publisher
Sociedad Geológica de España.
Abstract
Una parte significativa de las series sedimentarias del Mioceno Inferior y Medio de la cuenca de Madrid se sedimentaron en sistemas de llanura fangosa - lago (salino). Dentro de estas secuencias la fase carbonática más abundante es la dolomita que, según indican sus rasgos, precipitó con participación microbiana dentro de tapices cianobacterianos, los cuales proliferaban en esas condiciones. Frecuentemente, en los niveles dolomíticos que intercalan láminas ricas en filosilicatos, la dolomita forma paragénesis con distintos compuestos derivados del azufre que, por lo general, se presentan como sulfuros de hierro (pirita). El estudio detallado de estos niveles muestra que las piritas se presentan como framboides y suelen aparecer íntimamente ligadas a biotitas a las que rompen a favor de los planos de exfoliación y, en algunos casos, incluso, pseudomorfizan. Los agregados framboidales de pirita son muy complejos composicional y texturalmente, ya que coexisten con fases muy ricas en hierro e incluyen restos orgánicos, moldes de filamentos y abundantes corpúsculos esféricos de tamaño nanométrico. Asimismo, las biotitas asociadas a las piritas están selectivamente empobrecidas en Fe, con respecto a Si y Al, lo que descartaría una mera alteración físico-química. Esto sugiere que el Fe incluido en los sulfuros fue liberado selectivamente desde estos filosilicatos por el consorcio microbiano propio de los ambientes sulfato reductores, que lo utilizaría en su metabolismo.
This paper gives new insight in the microbial weathering of phyllosilicates and the subsequent formation of pyrite. These back-feeding processes were coeval with dolomite precipitation, which reinforces the role of the sulphate reducer microbes in the formation of dolomite in earth-surface conditions. Sedimentary sequences composed of selenite gypsum, mudstone, and dolomite microbialites cropping out in the eastern part of the Madrid Basin were deposited in a mudflat - saline-lake system during the Miocene. In some dolomite bed enriched in detrital grains, dolomite crystals occur intergrown with pyrite framboids that in many cases are arranged along the associated phyllosilicate cleavages, which accounts for the mineral disaggregation and, eventually, for the mineral replacement, with retention of the parent structure. These transformations are observed to take place across an irregular weathering front. Pyrite framboids yield a number of features susceptible of being interpreted as microbial remains, including the abundance of organic molecules. In addition, the altered phyllosilicates are significantly depleted in iron, consistent with a preferential microbial colonization of the Fe-bearing minerals and the release of this metal that may be used as micronutrient and/or as electron acceptor. Depleted d34S values in pyrite further suggest that sulphate microbial reduction to sulphide was active within the sediment during the alteration of the silicates.
Collections