Publication:
Integración de impactos ecológicos causados por plantas exóticas invasoras: propuesta metodológica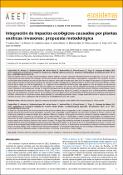 Advisors (or tutors)
Editors
Publisher
Asociación Española de Ecología Terrestre
Abstract
Tanto en España como en Europa existen demasiadas plantas exóticas invasoras para poder afrontar la gestión de todas ellas, por lo que es necesario priorizar las más nocivas. Sin embargo, ello requiere disponer de medidas cuantitativas, sistemáticas y comparables de su impacto. La información disponible es desigual en cuanto a los criterios y variables para medir impactos y por tanto difícil de integrar. Proponemos el siguiente método para integrar medidas de impactos procedentes de distintos estudios: 1) Búsqueda de casos de estudio, 2) cálculo de tamaños del efecto; 3) clasificación de los casos por nivel de organización, 4) integración de los tamaños del efecto para cada especie y nivel de impacto con técnicas de meta-análisis, y 5) estima de un índice de fiabilidad (basado en el número de casos) y otro de consistencia (basado en la heterogeneidad entre casos). Aplicamos este método para estimar los impactos en España de tres árboles invasores (Ailanthus altissima, Robinia pseudoacacia y Ulmus pumila). Encontramos 50 casos para A. altissima, 39 para R. pseudoacacia y 15 para U. pumila. Los impactos en el nivel de ecosistema (fertilidad) fueron los más estudiados, mientras que los de comunidad e individuo están menos documentados. Robinia pseudoacacia tiende a incrementar la fertilidad, mientras que A. altissima no altera esta propiedad. La metodología propuesta tiene la ventaja de permitir estimar el impacto con datos de estudios diversos, pero su aplicación está limitada por la disponibilidad de casos de estudio.
In Spain as in Europe there are too many invasive alien plants to address their management, so it is necessary to give priority to the most harmful species. But this requires the use of quantitative, systematic and comparable impact measures. The information available is uneven in terms of the criteria and variables to measure impacts and, therefore, difficult to integrate. We propose the following method to integrate measures of impacts from different studies: 1) search for case studies, 2) calculation of effect sizes; 3) classification of cases by level of organization, 4) integration of all effect sizes for each species and level of impact with meta-analysis techniques, and 5) estimate a consistency index (based on the heterogeneity among cases) and of reliability (based on the number of cases). We apply this method to estimate the impacts in Spain of three invasive trees (Ailanthus altissima, Robinia pseudoacacia and Ulmus pumila). We found 50 cases for A. altissima, 39 for R. pseudoacacia and 15 for U. pumila. The impacts at the ecosystem level (fertility) were the most studied, while the community or the individual level are less documented. Robinia pseudoacacia tends to increase fertility, while A. altissima does not alter this property. The proposed methodology has the advantage of allowing an impact assessment using data from disparate studies, but its application is limited by the availability of case studies.
Collections