Publication:
Los ejemplares tipo y figurados de las colecciones paleontológicas del Museo Geominero. I. Invertebrados e icnofósiles paleozoicos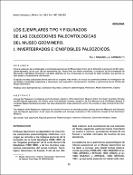 Files
Authors
Advisors (or tutors)
Editors
Publisher
Instituto Geológico y Minero de España (Madrid)
Abstract
Entre la colección de invertebrados e icnofósiles paleozoicos del Museo Geominero se ha detectado la presencia de 501 ejemplares figurados, de los que 135 son ejemplares tipo. Todos ellos son fósiles españoles, a excepción de 28 procedentes de Marruecos y del Sáhara Occidental. Los datos obtenidos se han almacenado en una base de datos temática, que permite un fácil acceso y consulta de la información. El estudio de estas colecciones forma parte de un proyecto más amplio, en el que se contempla también la investigación de los fósiles e icnofósiles mesozoicos y cenozoicos, que supondrá la revalorización científica y patrimonial de los fondos del Museo Geominero.
Among the Palaeozoic invertebrate and ichnofossil collection of the Geominero Museum there have been recorded 135 type and 501 figured specimens. All of them come from Spanish localities, except for 28 from Morocco and the Western Sahara. A computer based maintenance system has been dedicated to these specimens, which will provide an easy retrieval of the information. The research of the Palaeozoic collections fits into the framework of a broader project, dealing also with Mesozoic and Cenozoic type and figured specimens. lt will imply the scientific and heritage revaluation of the collections housed at the Geominero Museum.
Collections