Publication:
El patrimonio paleontológico del Paleozoico marino de la región de Almadén (Ciudad Real)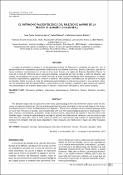 Advisors (or tutors)
Editors
Publisher
Sociedad Española para la Defensa del Patrimonio Geológico y Minero
Abstract
La región de Almadén se integra en la Paleontología mundial del Paleozoico a mediados del siglo XIX, tras el descubrimiento de importantes yacimientos fosilíferos de los sistemas Ordovícico, Silúrico y Devónico, que permitieron establecer correlaciones con el Macizo Armoricano francés y la región de Bohemia (República Checa). Se trata de un área de referencia para la geología española, consagrada por más de siglo y medio de estudios, que alberga las localidades tipo de más de medio centenar de especies paleontológicas entre braquiópodos, trilobites, moluscos, equinodermos, graptolitos, corales e icnofósiles, descubiertos y nombrados por vez primera en la región de Almadén. Desde el punto de vista del patrimonio paleontológico de relevancia nacional e internacional, destacan los yacimientos tipo de muchos fósiles, a veces únicos a nivel mundial, y también el gran número de colecciones paleontológicas de Almadén depositadas en museos e instituciones de España y otros países europeos.
The Almadén region was incorporated to the world palaeontology in the mid nineteenth century after the discovery of important Ordovician, Silurian and Devonian fossil sites that provided correlation with those of the Armorican Massif (western France) and Bohemia (Czech Republic). This is also a reference area for Spanish geology, based on more than 150 years of studies, that includes sites with over fifty paleontological species of brachiopods, trilobites, molluscs, echinoderms, graptolites, corals and trace fossils, discovered and named for the first time in the Almadén region. Among its paleontological heritage of national and international relevance, we can mention type fossil sites for many taxa, some of them unique at world level, and also the large number of paleontological collections from Almadén that are today deposited in many museums and institutions in Spain and other European countries.
Collections