Publication:
Diseño, síntesis, caracterización y aplicaciones analíticas de elementos de reconocimiento biomiméticos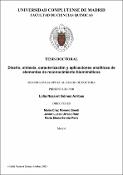 Files
Authors
Advisors (or tutors)
Editors
Publisher
Universidad Complutense de Madrid
Abstract
Los procesos de reconocimiento molecular constituyen la base para el establecimiento de uniones específicas entre un sistema receptor y su ligando, y representan el principio regidor de muchas de las interacciones que se producen en la naturaleza. En los procesos biológicos, los elementos de reconocimiento pueden ser, anticuerpos, enzimas, receptores celulares, etc. No obstante, a pesar de la demostrada selectividad que presentan los receptores de origen natural, su elevado coste de preparación y limitada estabilidad han conducido al desarrollo de alternativas de origen sintético y semisintético que permitan emular su comportamiento, evitando los inconvenientes asociados a su empleo para el desarrollo de métodos analíticos. Dentro de estas alternativas se encuentran los elementos de reconocimiento biomimético, tales como, aptámeros, péptidos, anticuerpos recombinantes o polímeros de impronta molecular (MIPs, del inglés molecularly imprinted polymers), ampliamente utilizados en diferentes aplicaciones bioanalíticas. Los anticuerpos recombinantes surgen como consecuencia de los avances producidos en el campo de la ingeniería genética y la biotecnología al facilitarse el diseño y la expresión de receptores derivados de los anticuerpos tradicionales. Al contrario que sus análogos biológicos, los anticuerpos recombinantes pueden presentarse en diferentes formatos dependiendo de la aplicación final, siendo uno de los más populares los denominados anticuerpos de dominio único. Estos anticuerpos recombinantes, especialmente los de origen humano correspondientes al dominio variable de la cadena pesada (VH), se posicionan como competidores frente a los anticuerpos tradicionales de origen biológico. Debido a su pequeño tamaño pueden acceder más fácilmente a un mayor número de epítopos presentes en el antígeno que una inmunoglobulina completa, además de presentar mayor estabilidad frente a procesos de desnaturalización, agregación o degradación. Asimismo, presentan mayor capacidad de penetración en los tejidos y menor coste de producción. La generación de estos anticuerpos recombinantes no requiere el empleo de animales de experimentación, ya que se lleva a cabo empleando métodos in vitro como las técnicas de presentación en superficie. Estas técnicas están basadas en el despliegue de los anticuerpos sobre diferentes plataformas, como levaduras, bacterias o fagos, siendo esta última (phage display) una de las más empleadas...
Molecular recognition is the basis for the interaction between a receptor system and its ligand in a specific geometry, and it represents the main principle of many interactions that occur in nature. In biological processes, the recognition elements can be antibodies, enzymes, cell receptors, etc. However, despite the demonstrated selectivity of receptors of natural origin, their high preparation cost and limited stability have led to the development of synthetic and semi-synthetic alternatives that emulate their behaviour, avoiding the inconveniences associated to their application in the development of analytical methods. Biomimetic recognition elements, such as aptamers, peptides, recombinant antibodies or molecularly imprinted polymers (MIPs), are included in this group and nowadays they are widely used in bioanalytical applications. The application of recombinant antibodies has increased significantly in the last decades thanks to the advances in the fields of genetic engineering and biotechnology that have facilitated the design and expression of receptors derived from traditional antibodies. In contrast to their biological counterparts, recombinant antibodies can be obtained in different formats depending on their final application, one of the most popular being the so-called single domain antibodies. These recombinant antibodies, especially those of human origin corresponding to the variable domain of the heavy chain (VH), are especially suitable for analytical applications and compete favorably with traditional antibodies of biological origin. Due to their small size, they can easily access to a higher number of epitopes present in the antigen than a complete immunoglobulin, in addition they are more stable against denaturation, aggregation, or degradation processes. Likewise, they have a greater capacity for tissue penetration and lower production costs. Production of recombinant antibodies does not require animal experimentation, since it is carried out using in vitro methods, such as surface display techniques. These techniques are based on the display of antibodies on different platforms, such as yeast, bacteria or phages, the latter being one of the most widely used ("phage display")...
Description
Tesis inédita de la Universidad Complutense de Madrid, Facultad de Ciencias Químicas, Departamento de Química Analítica, leída el 03/02/2021. Tesis formato europeo (compendio de artículos)
Collections