Publication:
El Epiro y Dodona: vías y comunicaciones en torno al santuario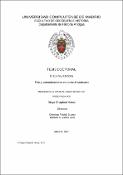 Authors
Advisors (or tutors)
Editors
Publisher
Universidad Complutense de Madrid
Abstract
La presente tesis se centra en el santuario de Dodona. Su objetivo es examinar cómo su evolución está estrechamente relacionada con el desarrollo de la región en la que se localiza, el Epiro. Se emplea una perspectiva diacrónica y se parte de la premisa de que el cambio siempre estuvo presente, es decir, que la religión no es estática, sino dinámica. La cronología de esta investigación abarca principalmente las épocas arcaica, clásica y helenística. El Epiro ha sido considerado tradicionalmente como un área secundaria de la antigua Grecia. No parece que desempeñara un papel significativo durante el arcaísmo ni el clasicismo, y en parte por este motivo la producción académica sobre la región epirota ha sido escasa. En las últimas décadas esta situación parece haber cambiado. Han aparecido nuevos estudios, algunos de ellos centrados en el propio Epiro y otros en aspectos más específicos, como aquéllos que analizan Dodona. Esta tesis trata de contribuir a este proceso, demostrando que el desarrollo de un centro no puede entenderse sin tener en cuenta su relación con su entorno y su contexto histórico. Para poder llevar a cabo este cometido, se emplean todas las fuentes disponibles, la Arqueología, la Literatura, la Epigrafía y la Numismática. Todas ellas son esenciales, pues si cualquiera de ellas fuera obviada, el resultado sería incompleto. Además, la Arqueología del Paisaje es también importante, ya que nos permite examinar la manera en que el territorio se articulaba. Dado que Dodona fue un centro de culto, es crucial comprobar cómo la gente la vio y la percibió, así como discernir qué criterios tuvieron una mayor influencia en esta experiencia...
This thesis is focused on the sanctuary of Dodona. Its aim is to examine how the evolution of this cult center is narrowly linked to the development of the region where it is located, Epirus. A diachronic perspective is employed and it is highlighted that change is always present, that is to say, that religion was not static, but dynamic. The chronology of this research covers mainly Archaic, Classical and Hellenistic periods. Epirus has been commonly considered as a secondary region of ancient Greece. It did not play a significant role during the Archaic and Classical ages, and because of this, research about the Epirote region has been scarce. In the last decades this situation seems to have changed. News studies have appeared, some of them focused on Epirus, some others in specific aspects, such as those that analyze Dodona. This thesis tries to contribute to this process by demonstrating that the development of a site cannot be understood without taking into account its relation with its surroundings and the historical background. This study can be approached through different sources, and all of them are essential. In order to elaborate a solid and interdisciplinary research, Archaeology, Literature, Epigraphy and Numismatics have been considered. If any of them are omitted, the results would be incomplete. Furthermore, Landscape Archaeology is also important, owing to the fact that it allows us to examine the way the territory was articulated. As Dodona was a cult center, it is crucial to test how people saw and interpreted it, and to discern which criteria had a major influence on this experience...
Description
Tesis inédita de la Universidad Complutense de Madrid, Facultad de Geografía e Historia, Departamento de Historia Antigua, leída el 20-06-2017
Collections