Publication:
Influencia de la alorreactividad KIR en el trasplante alogénico de progenitorres hematopoyéticos haploidéntico, no manipulado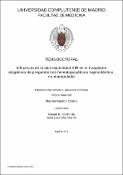 Files
Authors
Advisors (or tutors)
Editors
Publisher
Universidad Complutense de Madrid
Abstract
El trasplante alogénico de progenitores hematopoyéticos constituye la terapia de elección para muchos pacientes con neoplasias hematológicas, inicialmente con el objetivo de reconstituir la hematopoyesis dañada por la administración de terapias mieloablativas y posteriormente buscando el efecto antitumoral de las células infundidas. La introducción de nuevos tipos de trasplantes, ha incrementado el interés por el estudio de distintas poblaciones celulares en la búsqueda de optimizar el efecto del injerto contra el tumor (IcT). Estos estudios resultan de enorme relevancia para seleccionar al "mejor" donante, hecho que es especialmente importante en el contexto del trasplante haploidéntico (haplo-TPH), donde suele haber varios donantes disponibles. La célula "natural killer" (NK) es un linfocito citotóxico que tiene un papel protagonista en el haplo-TPH. De hecho, en el haplo-TPH se utilizan estrategias para eliminar o inactivar a los linfocitos T del injerto, ya sea "in vitro" o "in vivo", por lo que las células NK pasan a ser fundamentales en el mantenimiento de la alorreactividad. Estas células aprenden a activarse o inhibirse durante su maduración, mediante la unión o no de moléculas específicas, las moléculas del complejo mayor de histocompatibilidad tipo 1 (MHC1). Esta peculiar característica de los receptores KIR se ha utilizado para la selección de donantes más alorreactivos en el haplo-TPH "T-depleted" contribuyendo a disminuir las tasas de recaídas. Asimismo, los receptores KIR activatorios, y sus combinaciones centroméricas y el teloméricas en el donante, tienen implicación pronóstica en algunos tipos de trasplante en pacientes con leucemia aguda. El objetivo del presente estudio fue demostrar si las parejas donante/receptor con más datos de alorreactividad NK valorad por estudio de ligandos, de genotipo y de citotoxicidad "in vitro", tienen menor tasa de recaídas y mayor supervivencia que las menos alorreactivas, en el contexto del trasplante haploidéntico con ciclofosfamida post-trasplante (Pt-Cy). Para ello analizamos de forma retrospectiva en todos los pacientes sometidos a haplo-TPH con Pt-Cy en el Hospital G. U. Gregorio Marañón, desde el año 2007 al 2015, la presencia de "mismatch" de ligandos KIR, la presencia de "mismatch" de genes KIR inhibitorios, el contenido de receptores KIR activatorios centroméricos y el teloméricos en el donante y la presencia de polimorfismos más activos de uno de los receptores KIR inibitorios, el receptor KIR2DL1. Asimismo, estudiamos también la actividad de las células NK de forma prospectiva en aquellos pacientes trasplantados desde el 2013 al 2015, mediante estudio de citotoxicidad "in vitro" por fluorimetría, valorando también el grado de degranulación de las células NK mediante la identificación de una molécula lisosómica en la superficie celular (CD107a), por citometría de flujo...
Allogeneic transplantation has historically been the gold standard for progenitor's reconstitution in patients with hematological malignancies, initially with the objective of administering myeloablative therapies and later looking for the graft vs tumour effect of the infused cells. The development of new transplant modalities has increased the interest in these cell populations in the search to optimize the graft vs tumor effect, and it is an extremely important point to select the "best" donor. This is especially important in the haploidentical transplant setting, where several donors are often available. The NK cell is a cytotoxic lymphocyte that plays a major role in the haplo-trasplant setting, a procedure in which either "in vitro" or "in vivo" techniques are used to deplete or inactivate T lymphocytes of the graft, reason for which NK cells become essential. Through the use of specific molecules, the KIR receptors (killer immunoglobulin-like receptors), these cells learn, during their maturation, activating or inhibiting themselves according to the presence or absence of binding to their ligand, major histocompatibility complex molecules type 1 (MCH1). This distinctive characteristic is used for donor selection in the setting of depleted haplo-trasplant with the intention of decrease relapse rates. Likewise, activating KIR receptors and their different centromeric and telomeric combination in the donor genome have prognostic implications in some types of transplants in patients with acute leukemia. Our aim in the present study was to demonstrate that donor/recipient pairs with greater NK alloreactivity data assessed by ligand and "in vitro" cytotoxicity studies have better survival and lower relapse rate than less alloreactive pairs, in the setting of non-T depleted haploident transplantation, with Pt-Cy. To this end, we retrospectively analyzed the presence of KIR ligand mismatches, the presence of inhibitory KIR gene mismatches, the content of centromeric and telomeric activating KIR receptors in the donor genotype and the presence of a more active polymorphisms for one of the inhibitory KIR receptors, the KIR2DL1, in all patients submitted to haplo-TPH with Pt-Cy at Gregorio Marañon Hospital from 2007 to 2015. We also prospectively analyzed, in patients transplanted from 2013 to 2015, the activity of NK cells through two different methods: fluorimetric cytotoxicity and assessing the degree of cell degranulation by flow cytometry...
Description
Tesis de la Universidad Complutense de Madrid, Facultad de Medicina, leída el 18/12/2017
Collections