Publication:
Elaboración de criterios pedagógicos para un mejor aprovechamiento de los campus virtuales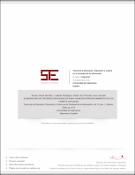 Advisors (or tutors)
Editors
Abstract
Vivimos momentos de cambio en la Educación Superior. Por una parte el proceso de Bolonia y por otra el enorme desarrollo de las nuevas tecnologías marcan las prioridades organizativas de la situación actual. Las posibilidades que ofrecen las nueva tecnologías educativas son enormes pero si queremos extraer toda su utilidad no sólo es necesaria la continua mejora técnica sino también la reflexión teórica. Es precisamente ahora, un momento de cambios rápidos y de prisas, cuando puede resultar más acuciante pararse y pensar en el sentido de las prácticas docentes en nuestro mundo universitario actual. En este sentido, este artículo pretende analizar las posibilidades y condiciones, desde un punto de vista pedagógico, que permiten un mejor aprovechamiento de los entornos de aprendizaje combinado, a partir de la experiencia llevada a cabo en el Campus Virtual de la Universidad Complutense de Madrid.
We live in times of change in Higher Education. On the one hand the Bologna process and on the other hand the enormous development of new technologies mark organizational priorities of the current situation. The possibilities offered by new educational technologies is enormous but if we remove all its usefulness is not only necessary the continuous improvement technique but also the theoretical reflection. It is precisely now, a time of rapid change in a hurry, when it can be more pressing stop and think about the meaning of the practice teaching in our university world today. In this context, this article attempts to analyze the possibilities and conditions, from a pedagogical point of view, allowing better use of learning environments combined, based on the experience carried out at the Universidad Complutense Madrid Virtual Campus
Citation
ASPDEN, L AND HELM, P. (2004) Making the Connection in a Blended Learning Environment. Educational Media International 41:3, pp.245-252. BURGOS, D; TATTERSALL, C; KOPER, R. (2005) Utilización de estándares en el aprendizaje virtual. Funcionalidades didácticas de la especificación IMS- Learning Design. Open Universiteit Nederlands. Disponible en http://dspace.ou.nl/bitstream/1820/488/1/BURGOS_DanielEtAl_040505.pdf CHEOL H.OH. (2003) Information Communication Technology and the New University: A View on eLearning ANNALS,AAPSS ,585,January pp.134-153. CHICKERING, A., & GAMSON, Z. (1987). Seven principles of good practice in un dergraduate education. AAHE Bulletin, 39, 3-7. CHICKERING, A AND EHRMANN, SC (1996) Implementing the seven principles: technology as lever, AAHE Bulletin, pp. 3–6. (www.ltgroup.org/programs/seven.html) CHRISTENSEN, T. K. (2003) CASE 1 Finding the Balance: Constructivist Pedagogy a Blended Course The Quarterly Review of Distance Education. Volume 4(3), pp. 235-243. EPIC WHITE PAPER (2003) Blended Learning www.epic.com ESTEVE, J.M.; GUERRERO, R.; HERNÁNDEZ, A.E. (1994) Metodología didáctica en Teoría de la Educación, Revista de Ciencias de la Educación, (157) enero-marzo, pp.117-139. JARED M. CARMAN, J. M. (2002) Blended Learning Design: Five Key Ingredients. KnowledgeNet ILLICH, I. (1973) Deschooling Society. Harmondsworth, Harrow books. MARSH, J. (2001) How to Design Effective Blended Learning. brandon-hall.com. OSGUTHORPE, R.T. AND GRAHAM, Ch. R. (2003) blended learning environments. Definitions and Directions The Quarterly Review of Disiance Education. Volume 4(3), pp. 227-233. REIMER, E. (1973) La escuela ha muerto. Alternativas en materia de educación. Barcelona. Barral. SALINAS, J. (2003) Comunidades virtuales y aprendizaje digital. Conferencia presentada Edutec, http://www.edutec.es SINGH, H (2003) Building Effective Blended Learning Programs Educational Technology, 43, (6), pp. 51-54. SINGH, H. and REED, CH. (2001) A White Paper: Achieving Success with Blended Learning. Centra Software. VAN MANEN, M (1998) El tacto en la enseñanza .(Barcelona, Paidós). VIGNA RE, K; STARENKO, M. (2004) Blended Learning Pilot Project. Final Report For the Academic Year. Online Learning Department. Rochester Institute of Technology.
Collections