Publication:
Instrumentos ambientales de carácter urbanístico en el modelo legislativo estatal y autonómico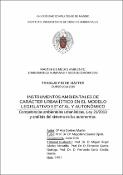 Authors
Advisors (or tutors)
Editors
Abstract
En este Trabajo Fin de Máster contemplaremos la situación en la que se encuentra en la actualidad en el territorio español la aplicación y regulación de los instrumentos ambientales que tengan aplicación en el ámbito urbanístico. En síntesis conoceremos la legislación autonómica, su contenido y sus competencias de acuerdo la realidad y de su situación respecto a la Ley de Evaluación Ambiental española.
This Master's Thesis examines the current context of environmental regulation and its implementation in the urban area in Spain. In short, we will study the Spanish regional legislation, its content and competences, in regard with the country' social context and the Spanish Environmental Assessment Law.