Publication:
Medidas de polarización en redes sociales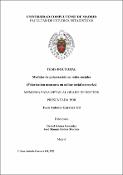 Files
Authors
Advisors (or tutors)
Editors
Publisher
Universidad Complutense de Madrid
Abstract
Esta tesis doctoral se centra en el estudio de la medición de la polarización en redes sociales. Si bien se encuentra relativo consenso sobre la conceptualización de la polarización en la literatura, esto no ocurre así con su métrica. A lo largo de los trabajos publicados en las últimas décadas, se encuentra una variada oferta de medidas de polarización que se muestran en disonancia las unas con las otras y, en ocasiones, en contradicción con la conceptualización teórica de la polarización. Con todo ello, a lo largo de este trabajo se realiza un estudio exhaustivo de las principales medidas de polarización con el fin de conocer en mayor profundidad su naturaleza y comportamiento. Así mismo, se estudian, analizan y se comparan escenarios de polarización para conocer las características principales de las consecuencias de dicha polarización en el comportamiento social en redes. Como continuación natural de lo anterior, se propone una medida de bipolarización difusa con el objetivo de suplir algunas de las deficiencias encontradas en la literatura, presentando un modelo de medición dela polarización más realista y coherente con el concepto. Así, la medida propuesta se aplica en el caso real de polarización política en las redes sociales durante la pandemia por la COVID-19...
This doctoral thesis focuses on the study of the measurement of polarizationin social networks. Although there is a relative consensus on the conceptualization of polarization in the literature, this is not the case with its measurement. Throughout the works published in recent decades, there is a wide range of polarization measures that are shown to be in dissonance with each other and, on occasions, in contradiction with the theoretical conceptualization of polarization. With all this, throughout this work an exhaustive study of the main polarization measures is carried out in order to know its nature and behavior in greater depth. Likewise, polarization scenarios are studied, analyzed and compared to know the main characteristics of the consequences of such polarization in social behavior. As a natural continuation of the above, a fuzzy bipolarization measure is proposed with the aim of overcoming some of the deficiencies found in the literature, presenting a more realistic and consistent polarization measure with the concept. Thus, the proposed measure is applied in the real case of political polarization in social networks during the COVID-19 pandemic...
Description
Tesis inédita de la Universidad Complutense de Madrid, Facultad de Estudios Estadísticos, leída el 01-12-2022
Collections